Note: The log part of this site will be boring to anyone except the three of us who made the trip, but it helps us remember the details of our sister trips, and so it is included. You are most welcome to read it, however.
October 1, Saturday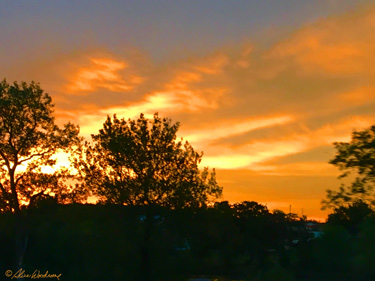 It was our last chance if we were going to have a sister trip in 2016. We hadn't missed our annual trip together in sixteen years. At ages 72 and 73, my sister, Chris Duffy, and I (Alice Woodrome) may not have many more years when we are healthy enough to go, and we didn't want to start missing our sister trips now. But it was a challenge. We made reservations months in advance, but because of my husband's health, we weren't sure for a long time whether we'd get to go this year. We moved the date twice to try to fit it in with his treatments and surgery, and finally found a window that looked like a go.
We left Oklahoma City at six, earlier than we needed to, primarily because we were just so anxious to get started on our week in the Lake of the Ozarks. We would be meeting our friend of over fifty years, Kathy Estabrook. She has shared most of our sister trips since she retired and moved to Chicago from our hometown of Quincy, Illinois.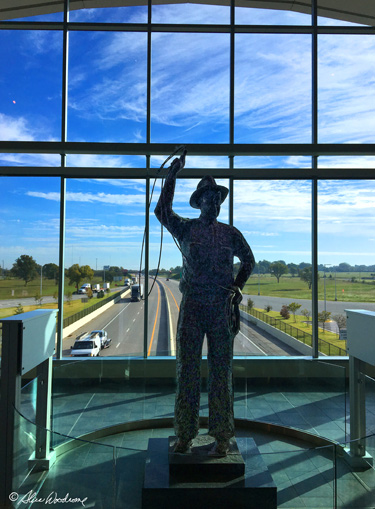 The sunrise was spectacular as we rolled along I-44 toward Tulsa. In recent years on our sister trips, Chris has preferred to drive and I am the navigator, a division of responsibilities that suits us both.
Our first stop of the morning was at the Vinita plaza, a MacDonald's that bridges the Will Roger's turnpike that runs between Tulsa and Joplin, Missouri. We ate breakfast sandwiches and coffee looking down on the road and up at a large sculpture of Will Rogers. Coffee was never Chris's drink, so anytime in this journal I say we had coffee, you can know it was either hot chocolate or hot tea for her.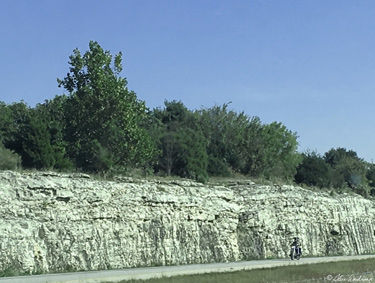 The time flew by as we talked, and by ten-thirty we were well into Missouri and seeing the outcroppings that we always associate with the Ozarks. We vacationed at the Lake of the Ozarks as children many summers—for two or three weeks at a time—and it is always fun to go back. We camped in tents then and ate meals cooked by our mother over a campfire. Camping was a lot of work for our parents, but all fun for us as children. To continue the tradition of "all fun and no work" we rent a lake house now. We do prepare almost all of our meals, but only because we both love to cook and enjoy fixing some of our childhood favorites.
Chris's GPS, which we have renamed The Divine Miss G, told us to turn at Lebanon, so we decided to eat our lunch there, even though we weren't all that hungry. We remembered a Sirloin Stockade in Lebanon from the last time we drove to the lake five years ago. They had wonderful bread pudding. We are both suckers for that wonderful rich dessert, and I could almost taste the cinnamon as we took the Lebanon exit.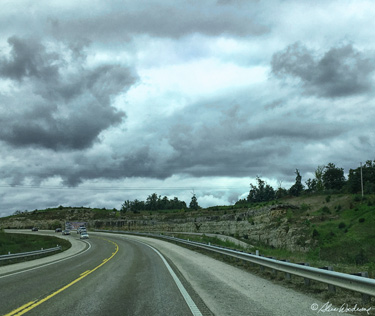 Alas, the restaurant was no longer there. I guess it shouldn't have surprised us after several years. We ate at an Applebee's instead, and had a nice meal. The maple cream cheese sauce that came with Chris's sweet potato fries was yummy. What's not to like? It had cream cheese in it. I think it would be good on anything. I ate what she didn't of it, which was most. I had sirloin steak that was a bit tough, but then I don't mind chewing if the flavor is good, and it was. The lunch was the last restaurant meal we would have until our trip back home a week from today.
When we stopped and filled up the tank and I got a cup of coffee, it was only one-thirty and we only had thirty miles or so to go. We clearly had some time to kill since check-in was not until four. On our way in, we stopped by the closest grocery to our destination, and dawdled as we browsed the store in the little town of Laurie, Missouri. It is a rural community of about a thousand, with just one strip along highway 5 with businesses. We bought food for a simple meal tonight. We would be visiting the store almost daily during our week at the lake.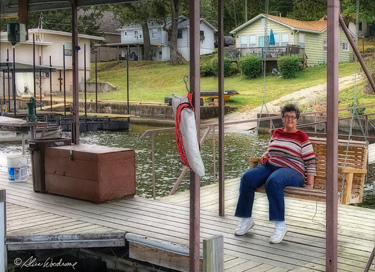 The Divine Miss G and the GPS on my iPhone had a disagreement at a fork in the road down to our lake house, but it turned out the road was a loop, so they were both right. We arrived at the Heron House about three and looked around outside. It wasn't as impressive on the outside as the Crownview, the house we had rented twice before, but there was a nice dock with chairs and even a swing. The view of the lake was great and we weren't disappointed at all. We had wanted a view that was a little different this time, and it was. It would be a great place to watch the sun come up.
We were delighted to see they had a fire pit, too, and since we still had time to use, we took a little walk up the road and gathered wood for a fire tonight, making certain we had lots of little twigs to use for kindling. We piled it in the pit, and I found an old book of matches in the bottom of my purse, so we were all set for our fire tonight.
At four we tried to open the lockbox to get to our key, but the combination they gave us did not work–after trying multiple times. Rats! We were debating what to do when Kathy came a few minutes later. After hugs and hellos all around, Kathy tried the lockbox, too, with the same result. We were all ready to get in and unpack, and there was no way to get into the lake house.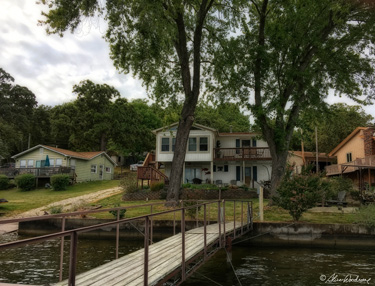 Luckily we remembered Sherry Shippee, the rental agent, saying that the owner lived next door, though which direction we didn't know. Chris, who is not shy about these things, tried one of the houses. Of course it was the wrong neighbor, but he was a nice man, and knew the owner—and he volunteered to call her. Yay! She said her door was unlocked, and to go on into her house and said where the master key was. Apparently they leave their house unlocked all the time, which made us feel pretty good about the safety of the neighborhood. Chris went in her side door and found the key, and we were able to get in finally.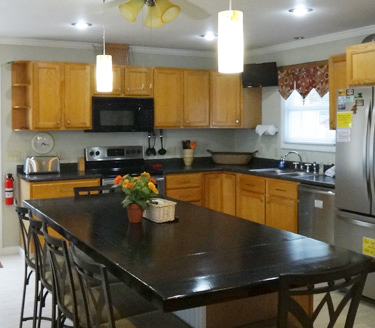 We really liked the vacation house. It wasn't quite as grand as the Crownview–also on the Gravois Mills arm of the lake–but it was roomy and very comfortable. It had a big, well-stocked kitchen, a bedroom for each of us, and besides a living room, a screened-in porch and deck with a swing and other seating. Kathy took the downstairs bedroom. It had a separate door to an outdoor patio area. There was also a bathroom, and a washer and dryer downstairs. She was happy with her accommodations, and I was extremely happy to be upstairs, though I shared a bathroom with Chris. The stairs leading down to the lower floor was right across the narrow hall from the door to our bathroom—no door or gate. So just to be on the safe side, we moved a stool in front of the doorway to the stairs to remind us of the danger of falling down the stairs if we made a wrong turn.
After we unpacked and looked around, we sat out on the back deck and talked for a while. It was nice to not have a schedule, but we discussed what we might do during the week. We decided we would have one outing every day and spend the rest of the time at the lake house. There wouldn't be nearly as much hiking as when we were younger. We used to love nothing better than a good long hike through the woods, and could be active all day before giving in. There are so many things like waterfalls that can only be seen by hiking there. Age and arthritis were taking a toll on at least two of us. Kathy was still in great shape for someone over 70, as witnessed by the fact that she didn't mind the flight of stairs down to her bedroom. There comes a point in life when one has to have the grace to acknowledge the limits that time imposes. Chris and I were fast coming to that point. I suppose it will catch up with Kathy eventually.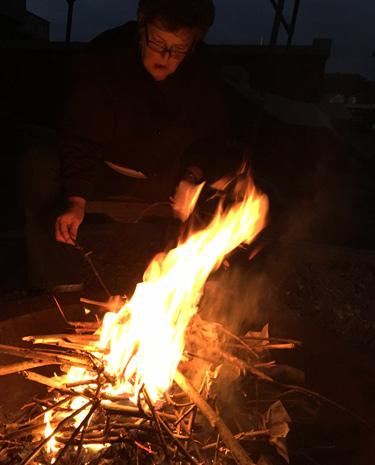 When we got hungry we came into the kitchen and made spaghetti and a salad. We made it super-easy our first night and used jar spaghetti sauce, but it was delicious, and the salad was wonderful, too.
When it began to get dark, we went outside, took a few pictures, and then built a fire in the fire pit. We were proud of ourselves that we made a great fire with just the wood we gathered at the side of the road near the Heron House, a few pages from an old phone book, and a few limp matches. It was great to sit around the fire, talking as we stared into the flames. The lake house wasn't anything like the tent we camped in over sixty years ago, but talking around a campfire after dark took us back to those childhood vacations at the lake.
We had a difficult time getting on the WiFi at the house. It usually didn't work, but just enough that the pictures we took with our iPhones would sync over iCloud occasionally throughout the week. Mostly we tethered our iPads and laptop to our iPhones to get on the internet. It was not a great system because our devices kept trying to use the house's WiFi, which was super-slow when it was working, and we'd have to tether again to our iPhones, but it all worked out. Who says we didn't still know how to rough it.
Before we went to bed our first night, we made some morning glory muffins to eat the next couple of mornings for breakfast. They are basically carrot muffins with raisins and apple. None of us are really breakfast people, so a muffin and coffee sounded about right. We found only one muffin tin—and it had only six cups. One of the fun things about cooking on vacation is figuring out how to adapt to the less than ideal cooking environment, so half of our muffins were baked in a round pan and cut into wedges. They tasted just as good.
Sunday, October 2
We were all anxious for a sunrise over the lake. Chris even got up before dawn, which is almost unheard of. She had to get up and go to work most of her life, and doesn't always sleep well, either, so sleeping in is a luxury she doesn't give up easily.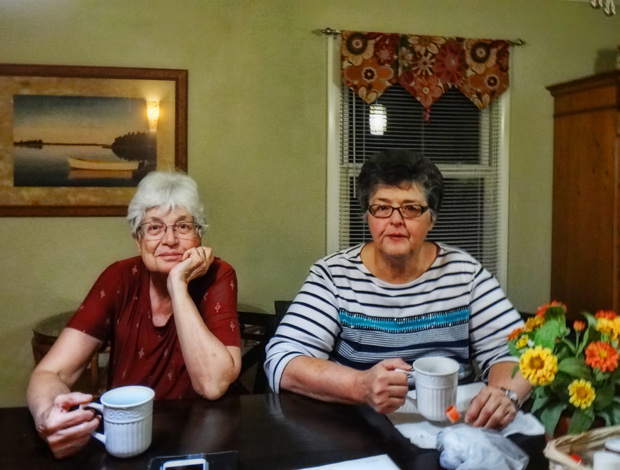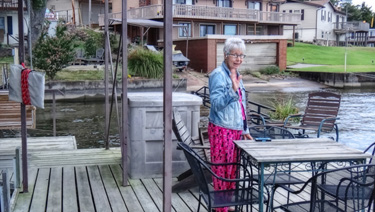 Alas there was no beautiful sunrise. In fact the only evidence that the sun was up was the sky getting light. It was just too cloudy. We looked up the forecast for the week on the Internet. It sounded like there would only be two days with any sun, and then it will be partly cloudy. Rain is predicted for the latter part of the week. It's beginning to sound like last year in Tennessee when we only saw the sun one afternoon. But then we didn't need a sunrise or even no rain to have a good time. We love to take pictures, but our trips are about enjoying our time together away from our regular life, and having the freedom to go where our whims take us—and always allowing time for serendipity.
We sat around outside in our pajamas for a while, talking and drinking coffee, which was nice, though we would have preferred to do it looking at a sunrise.
After we dressed, we decided to go first to historic Willmore Lodge, a quarter mile north of Bagnell Dam. We'd been there before, but then we'd been to most of the tourist places at the Lake of the Ozarks, and experiences are never quite the same even when you go to the same place. Willmore Lodge has displays there about the history of the Osage River Valley and the construction of the dam, but we were most interested in the tourist information center that is there because we still hadn't decided where all we wanted to go.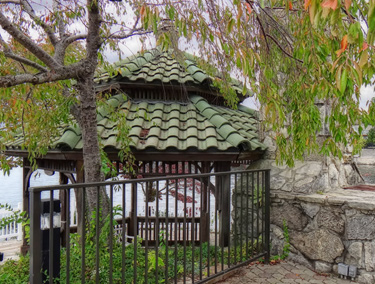 Seven miles out, Chris remembered that she didn't have her purse, so we went back. The next few times we got ready to leave the house, we reminded her to take her purse. Poor Chris. She wasn't likely to forget it again.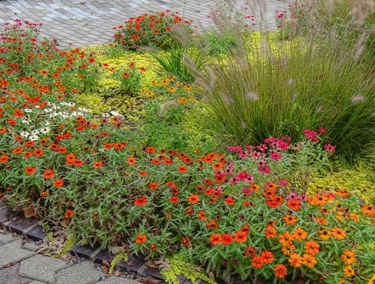 Willmore Lodge overlooks the lake, but one must go down a very steep path to get the best view. We used our walking sticks, and were glad we had them, even though a man in the parking lot had to show us how to extend and lock them into place. We'd forgotten since last year. Duh! Lots of zinnias and fall blooming flowers were at the bottom of the path. The garden looked like it suffered a bit from neglect, but the view of the lake was nice.
We were going to try to find the swimming beach in the state park we always went to when we were kids, but this trip we didn't have any good maps or instructions to it. The lady at Willmore Lodge wasn't nearly as helpful this year. So from there we went to the swinging bridges in the state park. There are two of them fairly close together. The swinging bridges were sort of fun, even though I am very uncomfortable at heights. It is scary because you can see the water below between the rather large gaps in the wooden slats, and the bridge moves and makes creaking sounds when a car goes over it. It can be a little disconcerting when you are on the bridge at the time. I walked all the way across the big one, but Chris only made it two-thirds of the way. Kathy went back after just a little ways, preferring to explore under the bridge.
It was to the grocery store in Laurie after that to buy groceries for the next couple of meals. We spent nearly fifty dollars there, but we ended up getting more than two meals.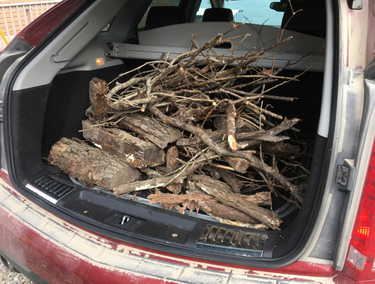 We dropped off our groceries at the house and put them away, then took the car back up the road a bit and collected fire wood. We got more than enough for our fire in the trunk of Chris's car. We thought originally that we'd purchase some firewood, but there was plenty around that we wouldn't have to buy any if we were willing to collect it, and we were. Our twigs last night made such a terrific fire that it would be better than logs anyway.
I made toasted cheese sandwiches and tomato soup while Kathy and Chris carried the firewood to the backyard, and put enough in the fire pit for tonight's fire and enough stacked close by for tomorrow's. I had the soup and sandwiches on the table when they came in. We were so hungry. I couldn't remember a meal ever tasting any better. It was four and we were just eating our lunch. Needless to say, we decided that we would not fix a supper. Actually, we thought we'd make s'mores and call it our supper when we built our fire tonight.
We sat out on the deck after we ate our meal and the sun actually came out for the first time on our trip. Things were looking up. Maybe there would be a sunrise tomorrow morning. That would be terrific, but I wasn't holding my breath.
After it got dark, we went down and built our fire. We had bought some fire-starters just in case it wasn't as easy to build our fires as the first night. We talked, peered into the flames, and let it burn down to lovely coals. Then we toasted marshmallows and made our s'mores. It was fun and another nod to our childhood camping trips.
When the coals were burned down to nearly nothing, we climbed the steps to the house, and sat around quietly playing games. It had been an enjoyable first full day.
Monday, October 3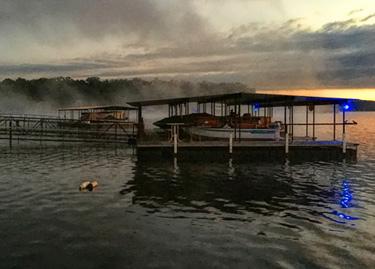 Kathy and I were up early again in the hopes of a sunrise worth photographing, and were rewarded with, if not a spectacular sunrise, at least one that made us happy. We sat on the deck and watched the morning change by the minute. I did a fair amount of moving around to get different angles. Kathy, who sat quietly drinking her coffee and watching the eastern sky, probably enjoyed the sunrise even more than I did.
After a leisurely breakfast of carrot muffins and coffee and an hour or so to either play games on the iPad or, in my case, do critiques for my writing group, we set out for Ha Ha Tonka State Park on the Niangua arm of the lake about five miles south of Camdenton. The last time we were at Lake of the Ozarks, it was our favorite destination, and except for the spectacular sunrises over the lake, it was the place we took the best photographs. We hoped with a partly sunny day, we would get some good shots.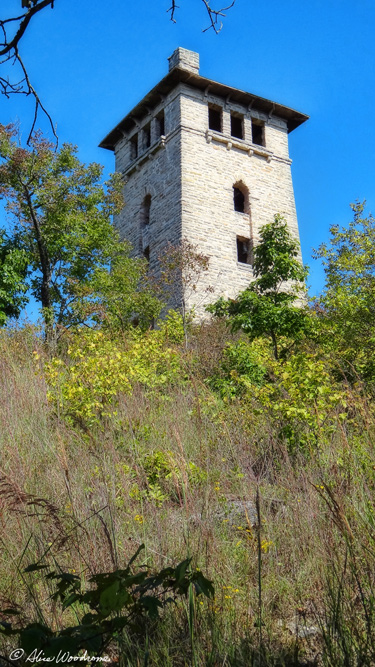 On our way we stopped at Ozarkland to buy candy. Another tradition, though they didn't have the cashew clusters we used to always get. I also got a coffee cup for my souvenir of this sister trip.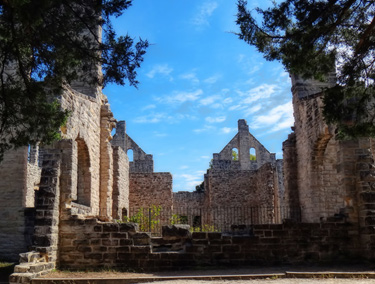 The sky was getting progressively bluer as we got close to Ha Ha Tonka State Park. Yay! First we went to the ruins of the huge, circa 1905 European-style stone castle. It sits atop towering bluffs with a grand view of the lake. Some fool had vandalized the place since we had been there five years ago, and so they had fenced the perimeter off. We couldn't get too close to most of the outside of the castle ruins. I doubt that vandals would be stopped by a little fence, but that's the way the world is. The sun had come out, though, and we got some good pictures over, around, and through the fence, but it was disappointing that someone would ruin it for so many other people.
We walked to see the tower ruins next, not far away. We didn't hike all the way to the base of it. We had no wish to climb it and I expect it was off limits to tourists, as well. We got some shots of it, however.
Next we drove to the head of the Colosseum Trail in the park. The one-half-mile trail winds under the park's famed Natural Bridge formation. According to our map, it would connect to the trail that led to the spring area, which we really wanted to see. We met a nice couple and the man said the Spring trail would be too strenuous for us. It is one-and-a-half miles and includes a strenuous 316-step, 200-foot ascent to the bluff above the spring. That wasn't really where we wanted to go because we had just been to the castle ruins that overlook the spring. He told us a way to drive to the spring. I'm glad we ran into him. We took his advice, and found the place where we had parked on our last trip there. We enjoyed the hike, much of it on a board walk, along the water with the cliffs above it on one side. The reflections in the water were fantastic and had an eerie feel to them.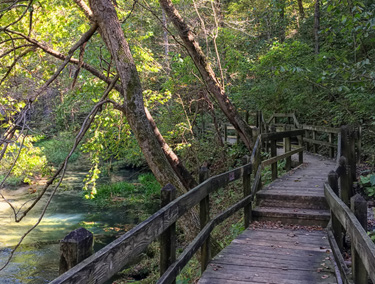 We were exhausted on our way back to the house, and in need of some caffeine. Kathy and I were, anyway. Chris had never got hooked on it. We stopped at the Funky Buffalo, a cute little coffee shop the lady at the candy place had told us about. They served pastries with their great coffee, so we had apple scones. It was a good stop. It would tide us over until we made our very late lunch. We had pretty well decided that one meal a day was enough if we didn't have lunch until the middle of the afternoon—and it looked like that was the way it was going to be. We stopped at the grocery store on our way home, too, to get matches and canned tomatoes. Kathy had brought the tomatoes to make chili, and I had used it for the tomato soup our first day.
When we got back to the house, we made spoon bread and another great salad, which really hit the spot. I made the spoon bread and forgot to put in the baking powder, but evidently it doesn't matter because it was wonderful and although it may not have raised quite as much, it was every bit as good.
Kathy made dill bread after supper to have for sandwiches the next day. She had brought along her bread machine, her one-serving coffee maker and salad spinner. We could have gotten along without them, but they were handy to have. The bread smelled wonderful as it baked, but I kept getting into my candy and didn't eat any when it came out, but Kathy did.
It was too windy to safely build a fire in the fire pit, which was a little disappointing. We had enjoyed the campfire so much the previous two nights. But there would be other nights. We sat around and played games instead of sitting around a fire. It's kind of funny—strange, we play the same game, Word Chums, with one another all the time on our iPads when Kathy is in Chicago and we're in Oklahoma City. Yet when we get together in the same room, we sit around and quietly play the same game just like we do when we're at our separate homes. But it is somehow more fun when we are together. Word Chums is a scrabble-like game, with cute avatars and slightly different scoring.
Tuesday, October 4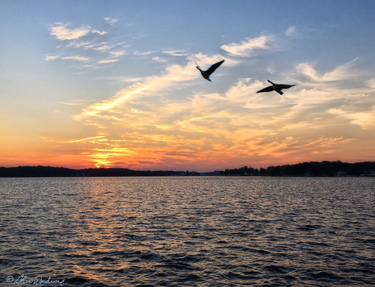 We were up to see the sunrise again and it was much clearer. We finally got some decent pictures. After two less-than-spectacular sunrises, Chris slept in and didn't make it up in time, but Kathy and I both did. Afterwards, we had breakfast of carrot muffins and coffee. There was candy on the table, as well, and I did add that to my breakfast fare. I evidently have no will power.
We were going to go to a vineyard this morning, but learned that the vineyards are closed today, so we opted for a walking trail at the Lake of the Ozarks State Park: Lakeview Bend trail.
On our way to the park, Chris went through a car wash, though the reasoning behind it was lost on Kathy and me. We will just get dusty again when we go on the gravel road back to the house this afternoon.
We drove to Lake of the Ozarks State Park, and located the beach where we swam as children. We knew it was the same place when we saw the stone steps that go down to the water. It was neat to sit on the steps, even though the beach had changed somewhat. It was a bit trashy and not nearly as wide as we remembered as children—and I don't think it was just our perceptions.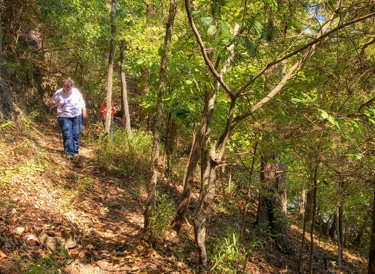 With directions from a park employee, who also warned us about seed ticks in the woods, we found the Lakeview Bend trail, which was designated a "moderate" trail a mile and a half long. We were too far into it to turn back when we decided that we were too old for a moderate trail. It was basically along the side of a hill that sloped down to the water. We used our hiking sticks, but even with them it would have been so easy to fall. There was no looking around at the woods and through the trees to the lake because we had to watch our steps. We worried what would happen if one of us fell. It was hard enough to stay on our feet alone, and would have been impossible to help another person out of the woods. Took a lot of the fun of hiking out of the experience, and we decided after that that we would only hike on short easy trails in the future.
I'm not sure if we did the whole trail or not because when we got to a road in the camping area, we were ready to head back to the car, which unfortunately was not close. Luckily, the same employee who told us where the trail started came with a golf cart collecting trash. He should have warned us about the difficulty of the trail. He told Chris he never hiked it anymore because it was too rough. Yet, he let three old ladies go with only a word of caution about ticks. However, we lived through it, so we forgave him, and he was nice enough to take Chris in the golf cart back to the car while Kathy and I waited at a picnic table until she returned with the car. We were so glad he came along.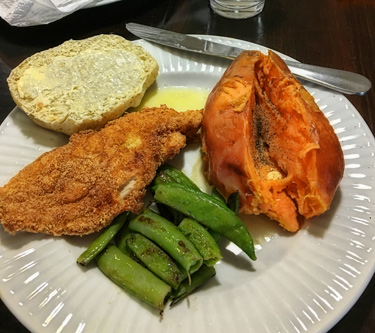 We always like to fry catfish once while we are on vacation, but we are very picky about fish being fresh—or frozen soon after it was caught. Chris learned of a fish market not too far away before our trip, so we went there to get fish for supper. It was extremely expensive—$22 for a mess of catfish for one meal for three people. Granted it was more than just one piece each. But still—Wow! We had them put it in an insulated bag for the ride home and went by the grocery store to get the other things we needed for our dinner.
The fish was still frozen when we got home, so we couldn't be in a hurry for our meal. We baked sweet potatoes while it defrosted and fixed sugar snap peas and served some of Kathy's dilly bread with it. The meal was good even if it was terribly expensive and terribly late.
We couldn't have a fire again because it was way too windy, so we just sat out on the deck and played Word Chums. It's a good thing we all had iPhones to tether our iPads to, because the WiFi at the Heron House was rarely working well enough to not be totally frustrating.
Wednesday, October 5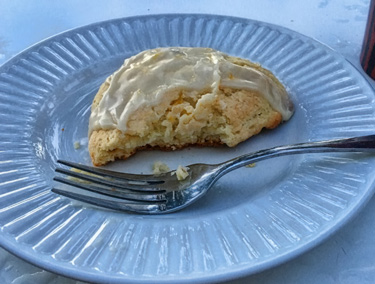 Inspired by the scones at the Funky Buffalo, I had bought ingredients the day before to make scones for our breakfast. I was up at 5:30 and made orange cranberry scones before dawn.
There was not much of a sunrise again because the horizon was blanketed by a dark cloud. The sun was up pretty high before we could see it, and there was very little color. But morning was not without a bright spot. The fresh scones were delicious. It was boasting to be sure, but I thought they were better than the Funky Buffalo's. We had some left over, so we would see how they taste when they are not fresh out of the oven.
We decided to go to the winery today because we hadn't been to a winery in the Ozark before. It didn't open until 9 so we were in no hurry and sat around and talked, had coffee, and played Word Chums.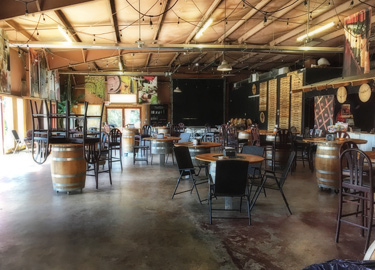 We headed out to Shawnee Bluff Vineyard at 10:40 AM. When we got there, no one was about—not a soul—and there was virtually nothing to see. So we hurriedly formulated an alternate plan.
We decided to go to some antique stores that were close. Siri was on the ball and directed us to Richard's Relic Shack, our first antique stop. It was nothing but dusty junk that none of us were the least intrigued by. We found another couple shops. Josh's Antiques finally had some things that interested us. The blue willow dishes were way over priced and I didn't even try to bargain him down. Chris got him to taken 30% off a flow-blue plate. I did buy two blue willow salad plates at Under the Sun, another place on our route home.
It was time for Kathy's mid-afternoon caffeine break, so we found a coffee shop. I like coffee in the afternoon, too, but Kathy needs it. The waitress at Omega Coffee Shop was not nearly as friendly as they were at the Funky Buffalo. But the coffee had caffeine in it which was our main objective.
We had a nice time today on our outing, browsing through dusty antique shops and going with the flow, but we got virtually no pictures.
The grocery store was the last stop before we went back to the house. They had Moose Tracks ice cream, so of course, we had to get some.
We made wonderful turkey and cheese sandwiches with the dilly bread Kathy made and had a great salad with it. Of course, we had a bowl of ice cream, too. It wasn't really rich ice cream, not as rich as the Moose Tracks we first had in Maryland, and still dream about, but it was ice cream, and it's hard to go too far wrong with ice cream.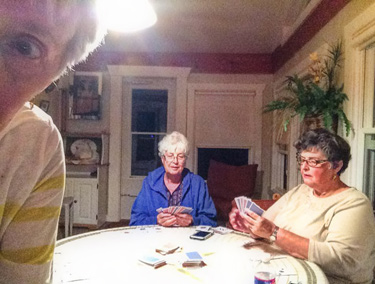 By 4:30 we were out on the deck playing Word Chums again. It grew a little chilly out on the deck so we went into the screened-in porch and played Hand and Foot. We laughed ourselves silly at the picture Kathy took trying to take a delayed time shot. She took three of them almost identical before she got the hang of it.
We did get to have a fire finally again after two windy nights. And we made s'mores again. S'mores are good, but honestly their main attraction was toasting the marshmallows over the coals. Otherwise, I would have just as soon eaten the chocolate and been done with it. I'm not even a fan of marshmallows normally, but there was something almost magical about sitting around the fire in the dark, turning marshmallows on a stick over coals until they were an even light brown. It's not that easy, really. If they got too close to the coals, they caught fire, and if they got too soft before they got brown, they could sag completely off the stick and fall into the fire. I suspect the real attraction of s'mores was the memories they evoked.
Thursday October 6
I was up at 5:30, but at 6:30 I was still the only one up. I figured I was so quiet reading in the screened-in porch that Kathy didn't hear me and that's why she didn't come up. Chris and Kathy are both nicer than I am. When I'm ready to get up, I just get up, but they are more concerned that they don't wake someone else. Kathy was up soon after the sky started turning red. We both hurried down to the dock with our coffee cups to watch the big event. We got some nice sunrise pictures and then as soon as the sun was up, and we were through taking pictures it started to rain. What perfect timing.
We grilled the scones I made yesterday for breakfast and they were still wonderful. They are so good, we want to remember the recipe, so we are recording it here. They might replace morning glory muffins on future sister trips.
Recipe for Orange Scones

Put in a bowl:
3 cups flour
rounded 1/2 cup sugar
5 tsp baking powder
1/2 tsp salt

Cut in 3/4 cup butter

In another bowl: put half of juice from the orange in a cup and add milk to measure 1 scant cup add 1 beaten egg
zest from one orange
handful of dried cranberries

Mix into flour mixture with spoon just until blended

Turn out onto floured board, turn in floor until able to handle without getting hands too sticky, divide into three proteins and press out into a circle, cut into fourths and place on greased cookie sheet.

Bake at 400 until golden brown.

Top with icing made with other half of orange juice and powdered sugar.
We decided to drive up to Boonville and rent bikes and ride along the Katy trail the way we did when Erik lived there. And then we would go to the Beauty and the Beast at the Royal Theatre in Versailles tonight. It would be two outings in one day, which we hadn't planned to do—but it was our plan to change if we wanted to.
On our way to Boonville, it continued to rain, but we held onto the hope that the sun would come out when we got there and our plan would not be thwarted. But to cover our bases, we put another plan B together. If it was still raining when we got there, we would try to find antique stores there and shop instead of ride bikes.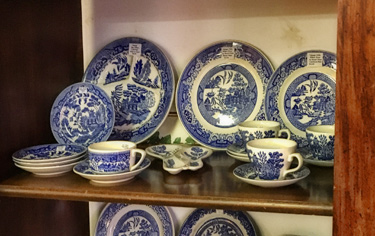 The sun did not come out, and it did not stop raining, so we found an antique shop on the main street and asked the proprietor about others in town. We went from one antique store to another, even a huge garage sale in a church, a beautiful old church. We heard about a big antique mall over in Columbia, too, so we went there. It was huge. We were hoping to find an ironstone or buffalo-china coffee cup for Warren because he broke his some time ago, and it was his favorite cup. Alas, we were unable to find the exact cup—and only the exact cup would do. We did buy a few other things—dishes mostly, but not a lot.
We calculated that we needed to head home between three and three-thirty to have time to make a simple meal and get ready for the theatre tonight—so we got only about half way through the antique mall before we had to stop.
On our way home we decided to have more homemade tomato soup and toasted cheese sandwiches. We had liked that first meal last Saturday so much, and it would be quick. So when we got home, we had a really tasty supper before we changed clothes and headed back up to Versailles for the play. The Royal Theatre is a movie theater converted to accommodate live performances—mostly community theatre.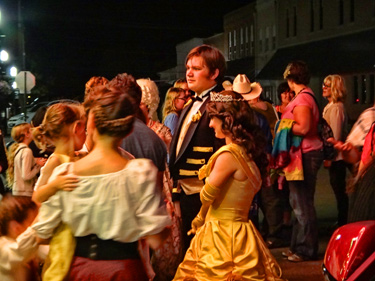 We were there in plenty of time because we thought we would have first-come-first-serve seats, but it was reserved seating, and we were near the back. We talked and even visited with some of the other audience members.
When the curtain opened, it soon became clear that this was a community effort, but we just sat back, relaxed and went with it. The actors would not have won any prizes and except for two of them, their voices were not great, but we thoroughly enjoyed it—partly because the rest of the audience was enthusiastic and supportive. The population of Versailles is a little over two thousand, so I guess a lot of them did know each other. After the play all the cast members came out onto the sidewalk in costume and mingled with the crowd in front of the theatre.
Our car was right outside the theatre and we hadn't realized that was what was going to happen, so we had to wait quite a while to leave because it was surrounded by the crowd. But it was okay. It was fun to watch the town's people interacting with the cast. It had a really small-town feel to it, and it was a great experience.
There was lightning in the sky on our way home, but it didn't rain on us. We were happy about that because we hadn't wanted to drive home in the dark when it was raining. We got home about 10:30—too late to build a fire, but we were tired and ready to turn in. There was a forecast for rain tonight. We hoped it would be over by morning and not rain on our last day in the Ozarks.
Friday, October 7
The rain was over when we awoke, but it was so cloudy that the sky merely got light with no color, much like our first morning at the Lake. Tomorrow will be our last opportunity for a sunrise. It is supposed to be sunny so there is hope.
We split and grilled the scones again for breakfast. They were still delicious.
As I showered and dressed, Chris and Kathy drove up to Laurie to the grocery store for a couple things. I had used Kathy's crushed tomatoes again, and we needed vanilla ice cream for tonight's dessert. We always make a special dessert during our sister trips. It's a tradition now that we must observe.
Kathy made her famous chili when they got back—another tradition—and we lounged around in the sitting area playing Word Chums. We decided to stay close and hang around the house most of our last day.
We played hand and foot in the kitchen the rest of the morning until it was time for lunch. I made corn bread to go with the chili Kathy made. It was a great meal. Most of our meals had not been fancy, but everything we had was really good.
We finished the game of hand and foot on the screened-in porch after lunch, and had a nice relaxed time.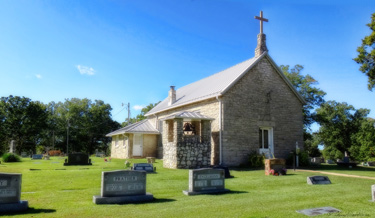 We drove out to the grave yard and church that were just up the road and looked around, then picked up some wood along the road for our last fire tonight as we drove back. We put the wood in the fire pit while it was still light so we wouldn't have to do it after dark.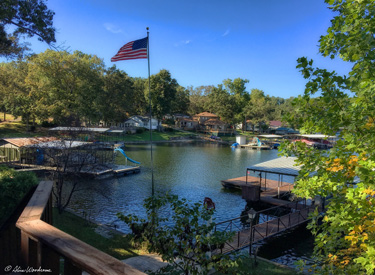 Kathy and I wanted to stretch our legs and walked around the neighborhood for a bit. It was an interesting area, nothing grand, but probably more interesting because of that.
I made pie crust with sugar and cinnamon, and we fried apples for the dessert we would have after our fire tonight. For supper we ate leftovers, each of us having something different.
We started the fire while it was just getting darkish. The wood was a little damp from the rain the previous night, so it was nice to have the extra help of the fire starters. By the time we had it going it was still light enough we could see each other, and it got really hot close to the fire. As it burned down it got more tolerable and finally we were getting cold. We didn't fix s'mores tonight because we had our wonderful dessert waiting in the house.
The dessert consists of cinnamon and sugar pie crust, broken into big pieces and topped with fried apples, vanilla ice cream and toasted pecans sprinkled on top. It's tastes like the best apple pie you can imagine.
Before we went to bed, we did a load of wash and played on our devices. It was a little sad going to our respective rooms our last night.
October 8 Saturday
We were all up before the sun. I actually slept until my alarm at 6:00. There was a lot of mist and clouds and we didn't see any color, The mist was kind of pretty, however. Two of our sunrises this week were lovely and colorful, so that had to be enough.
We packed, ate an assortment of leftovers for breakfast, said our goodbyes and hugged all around. We left the Heron House at 9 AM and went separate ways.
Chris and I stopped for lunch at an Olive Garden in Joplin, Mo, then got onto the turnpike headed toward Tulsa and Oklahoma City. It had been a nice sister trip. Our plans were thwarted a few times, but all in all, it didn't matter, because there was always something else fun to do. We had a lovely week together in a comfortable place with a great view and nothing we absolutely had to do. With my husband's major abdominal surgery after we got home and seven days in the hospital, then several weeks of convalescence at home, there would be plenty I had to do. If we had not done any tourist things, it still would have been a lovely respite. Pretty good, I'd say.