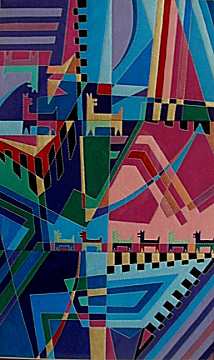 Fabric Art by Alice Woodrome
Have you ever noticed that the more people are into a subject—be it wine, food, music, theatre, movies, or art-- the narrower their scope of appreciation usually becomes?
For instance, one could never say that I'm qualified to judge music. I know little about it, but I like all kinds with the possible exception of rap. I'm happy as a clam singing along with Dixieland, Country—even Cajun music. I have a friend, on the other hand, who is an accomplished musician. It seems to have rendered her unable to enjoy anything as "awful" as Cajun music. She doubles over in pain at country. Over the years, her capacity to enjoy a wide range of music has narrowed as she learned more about it. Her taste has gravitated to the serious—operatic, classical, and other sophisticated forms of music. She belittles the music that most of us regular folk listen to—the music I thoroughly enjoy.
It's the same way with so many things. Those who know a lot about fine wine are no longer able to enjoy ordinary wines. Most of us can tell little difference; we might very well prefer a wine that a connoisseur would consider inferior. Personally, I like sweet wines the best. I know that is not supposed to be good in a wine–but I like what I like. My preferences are naive in that area.
The gourmets among us have palates so refined that they no longer can enjoy McDonald's french fries. Some of them probably have to go to a five star restaurant to enjoy a dining experience equivalent to the enjoyment I can find at Red Lobster. Accomplished authors would almost certainly not find most up to their reading standards. Award-winning actors and directors would surely find glaring faults in the amateur theatre productions that I enjoy. I find some movie critics way too hard to please. In my humble opinion, they pick apart perfectly good movies. Professionals can be so discriminating that they are insufferable to the rest of us.
And in the same way, no doubt because I spent my working career immersed in visual art, my taste in that area has evolved—and sadly has narrowed. My appreciation does not embrace a lot of art that most other people love. I think it's a shame, but that is the way it is. We do tend to become snobs. The sad part about it is that our capacity to enjoy a wide range of most anything tends to decrease in direct proportion to how involved we are personally in that field. And when we express a knowledgeable opinion regarding something in our area of competence, we often sound arrogant. And sometimes we are.
Which brings me to the reason for this article. Someone recently sent me a picture of some of their artwork and asked for a critique. I am at a loss to say much of anything positive, which is what I usually try to do, and so I have yet to give my critique. He is obviously quite proud of his accomplishment and I don't want to pour cold water on his enthusiasm, so how can I criticize something he loves? Generally, people just get defensive in those situations even when they sincerely ask for an honest opinion.
One is tempted to say in defense of something we love that has been criticized, "Can you do better?" And no matter what the answer is, or whether it is even a valid question, it still comes down to subjective tastes and opinions.
I have to admit that there is a certain amount of skill demonstrated in even an Elvis painting on black velvet. I have no doubt that many people consider to be beautiful art that I find overly sentimental, excessively idealized, amateurish or cliched. There are many artists producing such paintings who are quite successful. That alone does not make a painting good, though. Just as it did not make Van Gogh's paintings bad because he didn't sell any in his lifetime. See what an insufferable snob I can be in matters of art? Of course, it doesn't make a painting bad just because I don't like it, either. Cajun music isn't necessarily terrific because I like it, and a Hostess Twinkie is not necessarily a better dessert than Perce-Neige with Glazed Chestnuts just because it is more popular. It is all a matter of taste.
Anyway, I know there is the distinct possibility that I am coming off as arrogant, but there you are. Better to let off steam here than to hurt a budding artist with so much to learn. Some of you might remind me that it doesn't necessarily make my work good just because I've become a snob. I agree, and what's more, I think I deserve that remark.