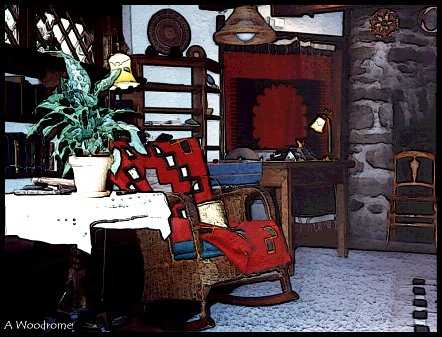 It all started when Mia was in the third grade. It was the first year her mother let her do her own Christmas shopping instead of just putting Mia's name on gifts to family members -- gifts she hadn't even seen sometimes. It was exciting, but it was a perplexing time, as well. Mia didn't have the slightest idea what was appropriate to give the adults of her family. She ended up giving every one of them something she liked -- chocolate.
Mia gave Grandmother Hilda a dollar bag of Hershey Kisses from Eckerd's drug store. Everyone else thanked the child nicely and said how pleased they were with their gifts, but you would have thought she'd given Gram the world. She went on about how much she adored chocolate and how Mia couldn't have picked a finer gift if she had gone to Tiffany's.
Every time Mia saw her that January her grandmother told me how much she was enjoying those chocolate kisses - how she was rationing them out one a day to stretch out the pleasure of the fine gift the child had given her. Mia totally believed her.
Gram Hilda and Mia had a thing about chocolate the rest of Gram's life. Every gift they gave each other after that, for whatever occasion, was always accompanied by chocolate. Hershey kisses became the currency of their love.
And Mia did love Gram. She was heart-sick when she became very ill and had to go to a nursing home when Mia was twenty. She visited her every Saturday on her day off, but felt helpless watching her grandmother waste away. It was more than she could bear and Gram knew it. They didn't talk much - they just held hands. It was hard to tell who was comforting whom.
I guess it's not surprising that Mia thought of chocolate and asked the nurse while she was taking Gram's blood pressure if she could bring her grandmother a few Hershey kisses next time. The nurse said chocolate wasn't on the approved diet. Mia was dejected.
When the nurse left the room, Gram whispered to Mia, "Sneak me in a bag of Hershey kisses anyway." There was a mischievous look in her eye. "Hide 'em good, now, child. I can almost taste them."
It became a ritual. Every Saturday, Mia would sneak in a little bag of chocolate kisses and Gram's eyes would twinkle as she hid it from the nurses to eat when no one was around. It amused Mia when the nurses mentioned that Gram wasn't eating much. She knew the secret to Grams appetite -- but it was their secret. It made her feel good to be able to do something that pleased her beloved grandmother. She couldn't stop the cancer that was slowly claiming her, but Mia could make her smile with a Hershey kiss.
When Gram Hilda finally died, and Mia came to take her things home, she found fifty-three little bags of Hershey kisses in the bottom drawer under a nightgown. She hadn't been hungry for chocolate at all. Mia's grandmother knew that Mia needed to give them, though.
The End