Image by Alice Woodrome
The word "home" probably has more meanings than any other word in our language. My husband's mother, Helen, was raised in the wheat lands of western Kansas. When she married and moved to Missouri, she did not like the hills and trees there. It made her claustrophobic to not be able to see the horizon, and they eventually moved back to western Kansas. That's where they lived when I fell in love with their son, and he took me back to meet them when we got engaged. Being raised in a river city with bluffs and tall trees, I found little that appealed to me in that flat and harsh land. But I did come to love Helen and I learned to appreciate the stark beauty of her beloved home.
I wrote the following shortly before Helen's death a few years ago:
You would like Helen. She knows how to be a mother-in-law. In the many years I've been married to her eldest son, never once has she made me feel anything but loved and accepted. She's treated me like a daughter in every way. The most striking thing about her is her smile. It's always there, even now.
Helen has decided it's time to die, and she is a little put out at God for not cooperating. The light of her life went out four years ago when her husband of fifty-nine years died of cancer. Outwardly, she was still the cheerful woman we always knew, but her interest in life died when he did. We encouraged her to develop new interests, but Helen had spent too many years with her life wrapped around Kenny's to change. So she read her Bible everyday, did her crossword puzzles and waited to join her husband.
Nature took notice of her disinterest and her body began the slow process of slipping away. She lost weight and complained of fatigue to the doctor. He told her to eat, but she wasn't hungry anymore.
Helen is in a rest home now - a nice one. Floral wallpaper covers the walls, and paintings depicting a gentler time line the hallways. There are doilies on the end tables and overstuffed easy chairs in the solarium. It doesn't smell like a nursing home and the staff is respectful and kind. Every attempt is made to make it home-like, but it's a place to die and we all know it. Hospice has been engaged. The official diagnosis is "failure to thrive." Helen lies on her bed and wonders why God has not honored her request to go on to heaven.
Last weekend we all thought perhaps the time had come. She developed pneumonia and fought for every breath. We took turns holding her hand and speaking our words and hers. Now and then and with great effort, Helen spoke - to express her love for us like it was the last time. When the nurses tried to feed her intravenously, she gently, and without ire, repeatedly pulled out the IV, until her wishes were respected. She is ready to die and does not want anyone interfering. The antibiotics did their job, however, and she can now breathe without laboring.
It may take a long time for Helen to get her wish. It takes a while to starve yourself to death - but I believe she sees it as her only option, given the fact that God has been remiss.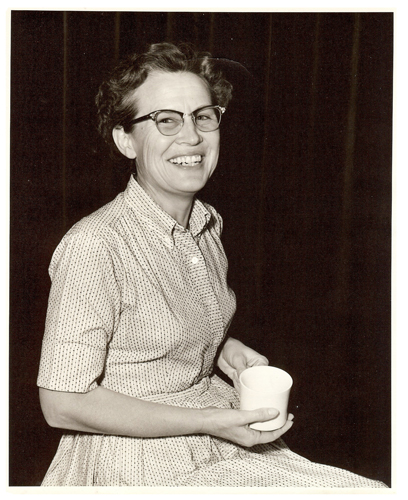 Helen Woodrome
The morning of her death, I added this:
The call came at 3:30 this morning. A ring in the middle of the night is rarely good news, but in this instance, it was welcome. Helen was ready to go, she wanted to join her husband, and had prayed to be released from this life. We did not wish to hold her back against her will. She died peacefully in her sleep in the wee hours of this morning.
Just hours before, I had sat beside her on her bed and held her frail hand, smoothing my palm over her brow as she smiled at me. The smile was always there, even when she had pneumonia and labored with every breath. Since recovering a few days ago, Helen had been comfortable. She could speak again without effort, but there wasn't much left to say. She had said her good-byes to all of us, and she was just waiting now.
"I love you," were her last words to me, and mine to her.
We arrived at the nursing home a few minutes after the call. Her brow was cool and her mouth open. Her smile was gone. I gently closed an eyelid that had opened halfway and kissed her forehead, but Helen wasn't there -- she'd gone on to be with Kenny.