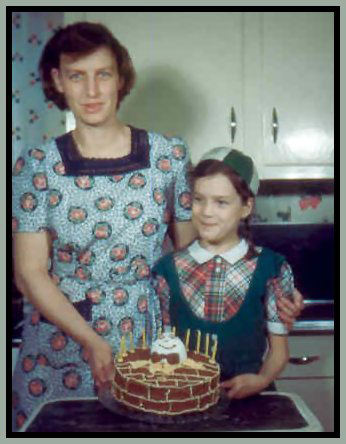 Mom and Me in 1953

My mother grew up in a poor and unhappy family and her childhood memories were not pleasant, so she was determined that things would be different for her own children. And they were. She and my father went out of their way to make good memories for us. We were poor, too, but a birthday was an event and celebrated with all the usual traditions and a beautiful cake made and decorated by Mama. We got to choose our favorite foods for dinner that evening and my mother would set the table with her best dishes. She did other holidays up right, too. On Thanksgiving the house was filled with family and the wonderful smells of a traditional holiday meal. Christmas was -- well, let me just say, no one did Christmas any better than Mama.

But it wasn't the holiday celebrations that I remember the most fondly. My mother was a maker of unique family traditions. After the last day of school every year, we knew Mama would have a picnic all packed and be ready to take us to South Park. We celebrated the beginning of summer at a picnic table next to the creek eating fried chicken and cookies.

Our vacations every summer were spent camping out -- for a couple of weeks, at least. There were traditions there, too - and tastes that will always mean summer to me. Fish fried on a little Coleman stove, and, after dark, marshmallows that we toasted over the campfire, eaten with graham crackers and Hershey bars.

But winter had my favorite tastes. On very cold days, it was Mama's habit to make hot cocoa flavored with cinnamon when we arrived home from school. My mother was a great soup maker, too, and every Saturday night during winter was soup night. The taste of savory vegetable soup and hearty potato soup still says home to me.

One of my favorite childhood traditions, though, was "Gingerbread Day." We always celebrated the first snow of every winter with homemade gingerbread, warm from the oven and served with melting butter. I can remember looking out of the school window when I was a child at the first snow flakes of the season, I could almost taste the hot gingerbread that I knew Mama would have waiting when I got home that afternoon. I can nearly taste it now – it tastes like love.