Home

Pictures

Log

Back

Index

Next

Trade
2012 Arkansas Sister Trip Log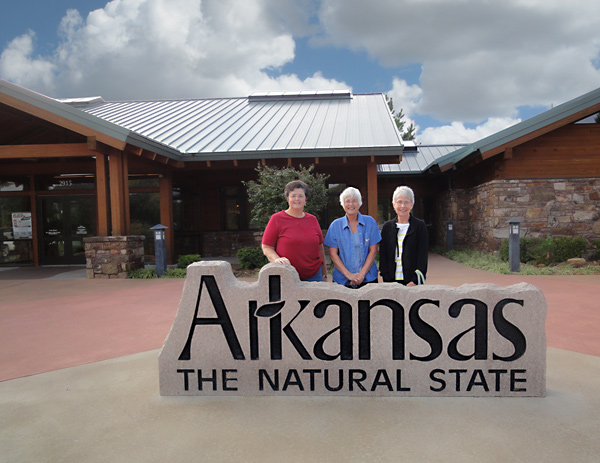 Saturday, October 13...
We always look forward to October and our annual sister trip. This year, we invited Kathy, a high school friend from the Chicago area, to join us. She arrived early Friday evening, ready for our adventure. After a hot bowl of chili soup, we packed our bags in Chris's car, and prepared to leave early.



We were up at five and on our way by six. Our AAA triptick routed us through Tulsa, but that would be going way out of our way to go to Devil's Den State Park, which we wanted to see on our way to the northwest corner of Arkansas. We disregarded AAA's plan for us and took I-40 to Fort Smith. I had gone that way many times when I sold my work at the War Eagle Craft Fair years ago, and I felt confident that it was the better way.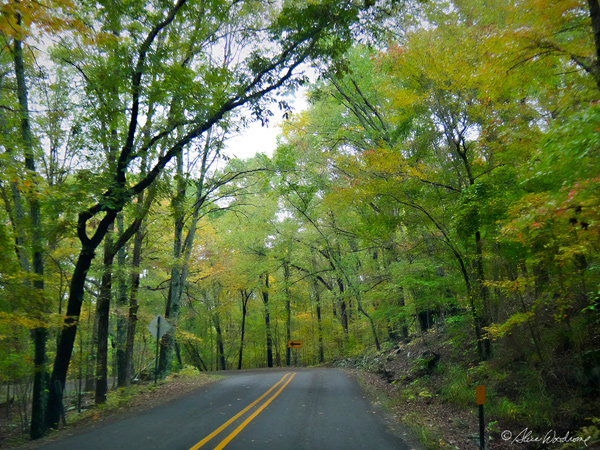 We arrived at Devil's Den around ten thirty AM. The state park is nestled deep in Lee Creek Valley, a picturesque setting in Arkansas's Ozark Mountains. The trails and buildings of the park were constructed by the CCC, a depression era works program of which our own father had been a part. Lee Valley provided the native stone and wood used to craft the park.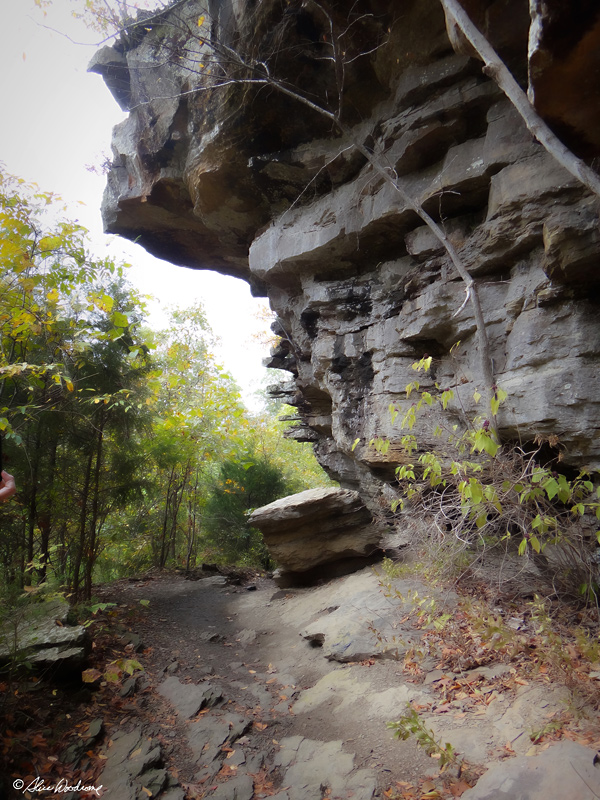 By the time we got to Devils Den we were tired of sitting. We decided to take one of the trails to an overlook called Yellow Rock. The rugged trail, through cedar glades, old-growth woodlands, and interesting rock formations, was extremely difficult in places and uphill most of the way to the overlook - three hundred feet in elevation -- but we all had our walking sticks, it was a lovely day, and we were in the midst of such natural beauty that it seemed of little consequence.

At one point we took the wrong fork in the road, and added probably a half mile to the three-mile hike. Thank goodness we met someone on the trail who knew we had strayed off the main loop. We might never have made it to Yellow Rock if we hadn't talked to them.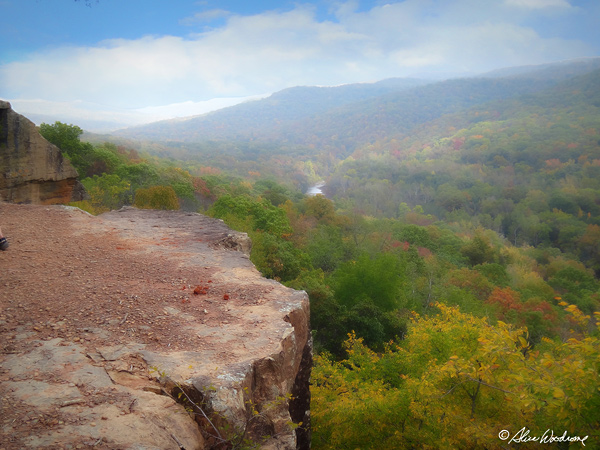 The View from Yellow Rock overlook was outstanding with its unobstructed view of Lee Creek Valley.

The hike back to the car seemed much shorter than it had going up. I'm sure gravity had something to do with that, but also we had already been along the trail, and trips back from someplace you've been for the first time always seem shorter.

We stopped along the highway after the hike to get a bite to eat at a McDonalds. We just had a yogurt parfait because we didn't want to spoil our supper. Chris had brought some pumpkin bread and we took that in to the McDonalds and had it with our coffee, too, feeling slightly naughty to be eating outside food in their facility.

We got to our hotel about three in the afternoon. It took a while to get all of our bags up to the room. We had brought stuff to do some of our own cooking, too. It would be a challenge in a motel room, but our accommodations the rest of the week would have kitchens.

We still had some daylight hours, though, and were not ready to settle in. The hotel desk clerk told us about a museum called Crystal Bridges Museum of American Art that Helen Walton (Walmart founder, Sam Walton's wife), built to house her sizable art collection. It is a free museum with four hundred works by American masters. We had hiked enough for one day, so we decided to go to it. With the desk clerks directions, and our GPS, the Divine Miss G, as we call her, we found it easily.



The museum was fantastic. So many wonderful artists! Mrs. Walton had such eclectic taste, too, that there was something for everyone. An added bonus was that we were allowed to take non-flash photographs.

We met an artist in the Museum gift shop named Carol Dickie, who was there promoting her work. We loved her mixed media paintings, but they were all too expensive for us to buy. She used color so well and so lavishly, which was one thing I liked about her paintings.

We stopped by Walmart on our way back because we had forgotten plates and bowls to heat up stuff. It was raining. When we got back to the hotel, it was about quarter to seven. While it stormed outside, we made super nachos, using our electric skillet and microwave. It was delicious, even though sitting on our beds to eat was not ideal. We found out later that a small tornado touched down in Rogers about the time we were cleaning up after supper.



Sunday, October 14...

We woke at about seven and had breakfast at the Hotel, a free hot breakfast. None of us normally eat breakfast, but who can pass up free food? Besides, who knew when we would have lunch? We were off about eight forty-five, to War Eagle.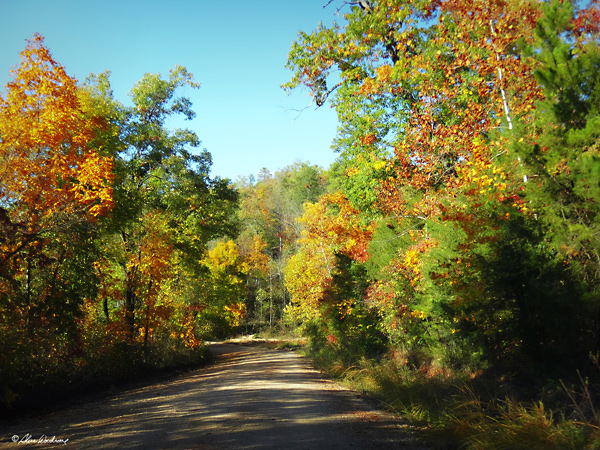 We purposely planned our visit there before the annual craft fair to avoid the thousands of visitors who crowd that part of Arkansas every year. It's a beautiful area, but it would be hard to appreciate fully in the midst of a horde of craft fair shoppers.

War Eagle Mill's history begins with the story of a tenacious pioneer couple. Until this year I had known nothing about them. Sylvanus Blackburn was 16 years old when he married Catherine. The young couple lived on his parents' farm in Tennessee for a year but then decided it was time to find a place of their own. Sylvanus left Catherine with his folks and headed west. He didn't stop until he came upon a lush valley next to the War Eagle Creek in Arkansas. Sylvanus had found the most beautiful setting for their new home and immediately sent for Catherine so they could begin their life in the War Eagle Valley.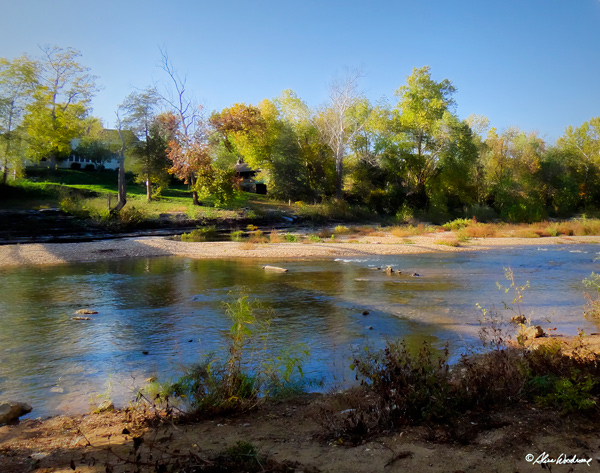 The first thing Sylvanus and Catherine did was build a house using wood from the surrounding forest. It sat on top of the little hill next to the creek, and was so well built that it is still in use today. After the house was completed, the couple turned their attention to planting corn in the fertile bottomlands of the creek valley. But with the closest Mill in Richand, twenty-five miles away, the Blackburn's quickly recognized the need for a gristmill. The War Eagle Creek would provide the perfect energy source to grind grain into flour.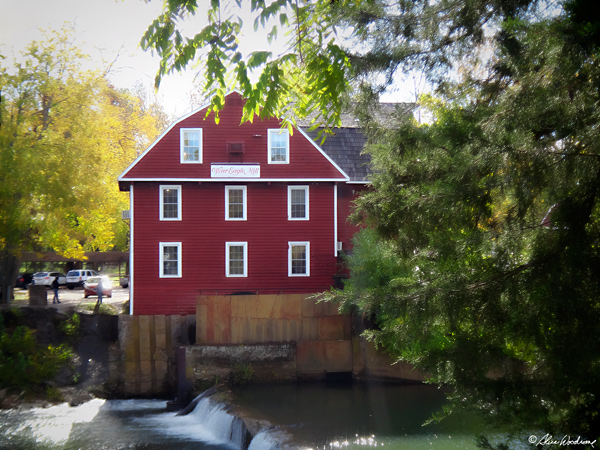 The Mill was built in 1832, and proved to be in a tremendously successful location. It didn't take long for the surrounding neighbors to bring their own corn to Sylvanus for grinding. Before he knew it, the Blackburns had the most popular place around for people to have picnics and parties while waiting for their grain to be milled.

In 1848, a heavy rainy season flooded the entire valley and the Mill was pushed into the river, washed downstream and totally destroyed. As soon as the water receded, Sylvanus and Catherine rebuilt the Mill. Learning about the tough people in the mill's history gave me a new appreciation for the place I had known for many years.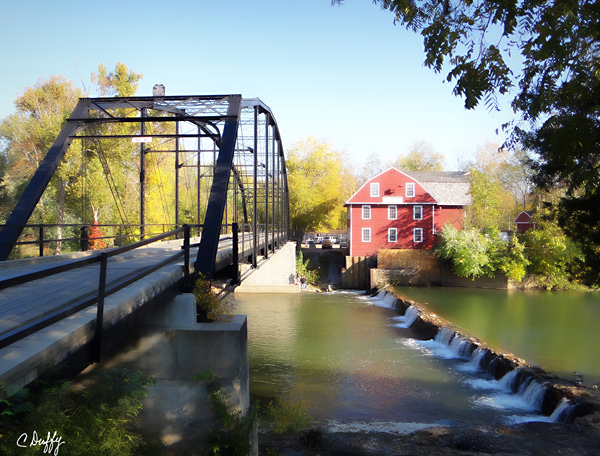 The foliage we saw was more colorful than it had been the day before, but we were a little north, too, so that probably made the difference.

When we got to War Eagle, we realized that it probably would have been better to plan our visit there for later in the day because the sun was in back of the mill and it was hard to get a good shot of it. We took quite a few photographs anyway, but probably didn't stick around as long as we might have if the light had been advantageous.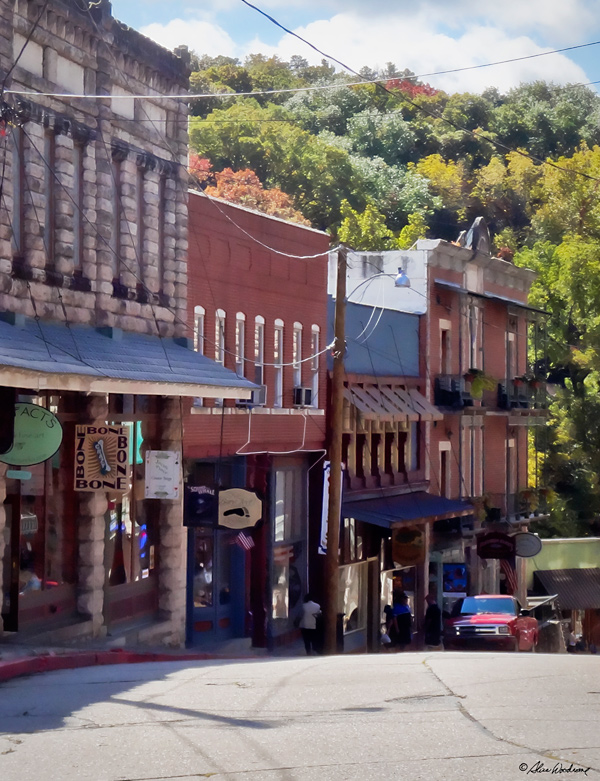 We drove on to the little Victorian mountain village of Eureka Springs after that. The community is built on a picturesque mountain side, and is an altogether charming place to visit.

We found a parking lot for five dollars for three hours, and walked around the distinctive shopping area. We aren't much for shopping, but just walking around the quaint streets, and looking at the delightful architecture was a pleasure. We did browse some of the shops and galleries, but we didn't buy much of anything. One gallery had some of Carol Dickies gicleé prints. They were still pretty expensive, but I think Chris and I were both tempted -- as if we had any room for more art work.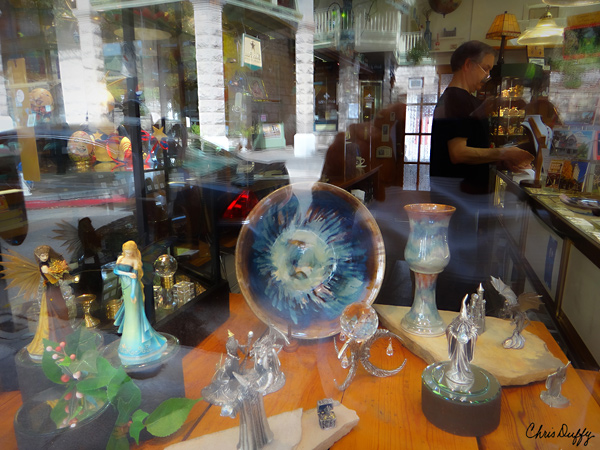 We ate lunch at an underground place called Mud Street Cafe. We had been headed for another restaurant that one of the gallery owners recommended, and were waylaid by some people whom we now suspect were connected in some way to the Mud Street Cafe. They promised it was fabulous and that the coconut pie was "better than Grandmas," but the food was in no way extraordinary, the coffee, though good, was not hot, and the wait staff was harried. Even the coconut pie was just fair. I did like the Bohemian feel of the little cafe, though, and we were in amiable company, so we enjoyed our lunch.

After we ate we found a fascinating kitchen store and spent some time casually perusing their intriguing stock. We love kitchen stores, and it would have been easy to spend way more than our budgets allowed. Chris and I bought cute little noodle cutters that I am anxious now to try out.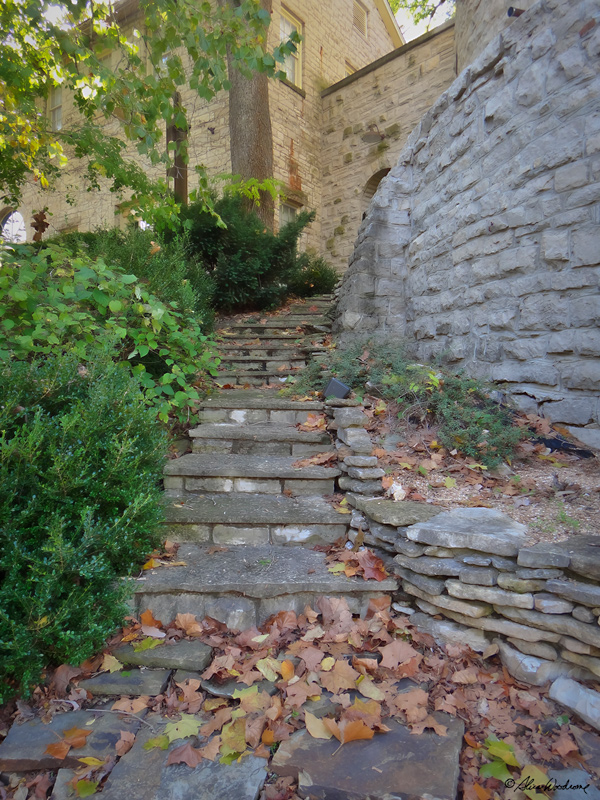 When our three hours of parking was over, we hurried back to the parking lot and drove to one end of town and parked in a free roadside park. We then walked a few blocks taking pictures of interesting houses and buildings.

We left Eureka Springs about four and decided to go home by way of War Eagle since the light should be much better than it had been that morning. The Divine Miss G took us a different way back to the mill -- on a road I was totally unfamiliar with.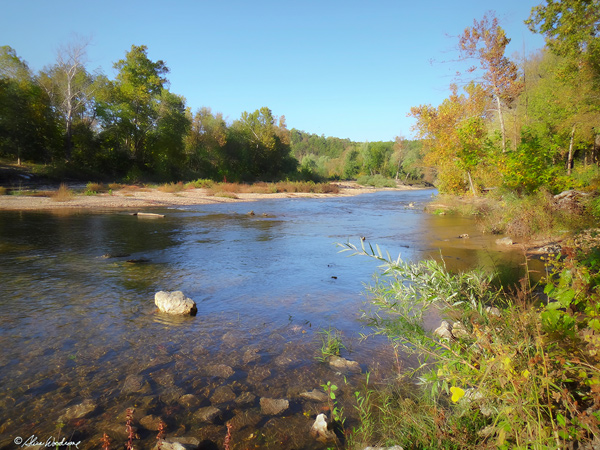 When we got back, we crossed the bridge over the War Eagle River to get our shots of the Mill. The light was ideal then with long afternoon shadows. We also went down by the river. What a picture perfect setting. I'm so glad we went back.

Before we left War Eagle again about five we bought a few things at the Mill shop -- some food stuffs and a piece of pottery for Chris. I've made some pretty great bread since then with the wheat products I bought that afternoon.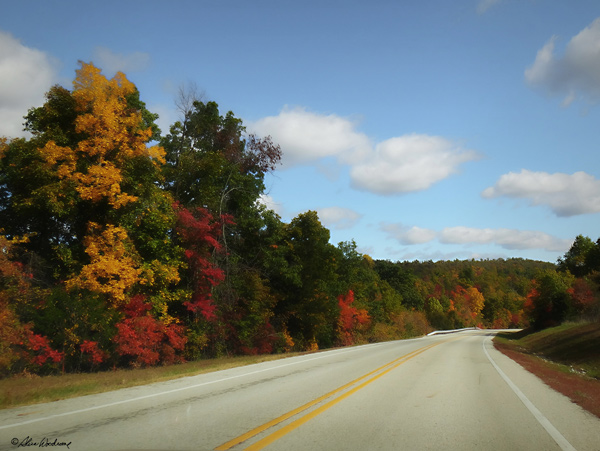 The foliage was really pretty on our way home. The late afternoon sun was very nice and really brought the colors to life.

When we got back to the Motel, we cooked spaghetti in the electric skillet and added the left over meat, beans, and queso from yesterday. We also had the leftover lettuce with Chris's salad dressing. It tasted very good.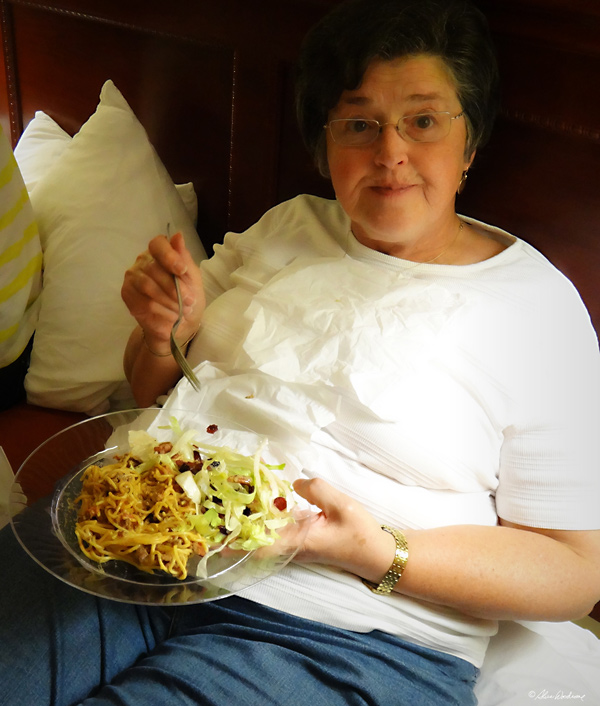 They had a Braums in Rogers, and since Kathy had never had the Braums experience we went there and had some ice cream. Yummy!

We did a couple very small loads of wash at the Hotel, since it may be the last time on our trip when we will have laundry facilities.

We spent the rest of the evening, playing on our respective Apple electronic devices.



Monday, October 15...

We had breakfast at our Hotel then packed the car and checked out. We were on our way at eight-thirty, heading toward Bull Shoals Lake.

Soon after we left the hotel we passed an area in Rogers that looked like it had sustained some serious storm damage. We remembered hearing that a tornado had touched down somewhere in Rogers on Saturday night. It was too close. I'm glad we didn't know it at the time.

Leaving Rogers and getting headed toward Bull Shoals was not as easy as it should have been because the Divine Miss G. kept insisting on taking us West instead of East. After reprogramming and recalculating a time or two, we finally got her to agree that we were going East.

We decided to go by way of Harrison Arkansas since we had plenty of time. The Buffalo River was just south of there, and we wanted to see if there was something interesting to see there and, hopefully, a trail to hike before we checked into the Lake house.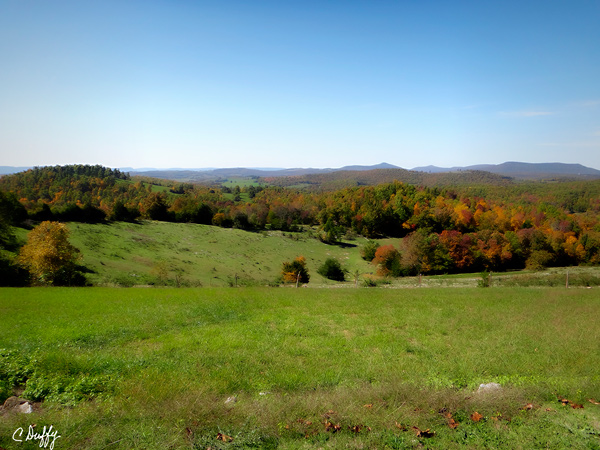 Outside of Eureka Springs we stopped for coffee and plotted our next adventure. We found a web site with maps of the Buffalo National River and downloaded them to my Mac notebook. One trail sounded about right for three not-so-young gals, so we continued on our way to the Buffalo River, one of the few free-running rivers in the lower forty-eight states.

When we got to Harrison, the Park headquarters, we ate a light lunch at McDonald's and then headed down 65 to Tyler Bend Visitors Center in the middle river region, where the trailhead was supposed to be.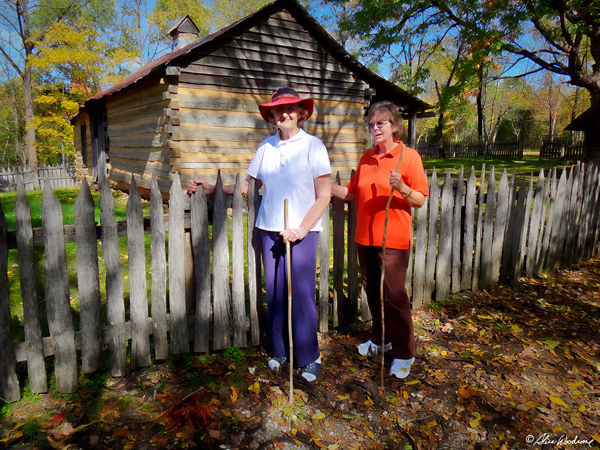 We found the Visitors center and they directed us to the trailhead, where there was a homestead that we loved -- the Collier Homestead. The old home site was settled by Solomon "Sod" Collier and his family after moving there in 1928. They were among the last pioneers, those twentieth century settlers who claimed the few remaining lands opened up by the Homestead Act of 1862. By 1937, The Colliers had made enough improvements on the land, and stayed on it long enough, to become the legal owners. They were farmers who raised cattle, hogs, corn and fruit there and fished and hunted to supplement their food supply. Their lifestyle was that typical of the Ozarks at the time. They stayed home, seldom traveling more then a few miles, worked hard, and used what God had provided in the land itself. They grew or made most of what they needed and lived simply but were rich in many ways.

It was fun to walk around the structures, watching the play of light and shadow and we easily caught a glimpse of the determination and endurance that let families carve out a living in this rugged country.

Very near the Tyler Bend trailhead, we met two lovely local older ladies, a mother and daughter named Racine and Judy. They hike the trail nearly every day, and told us that a bear and her cubs had been spotted fairly recently, so we stayed close to them, figuring that there was safety in numbers. The trail, all dressed in fall colors was enchanting, even with the thought of a mother bear somewhere in the woods.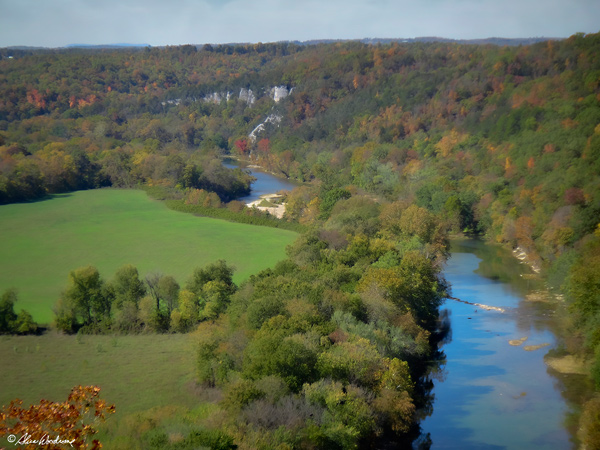 The trail to the overlook was only about a half mile, and we were there before we knew it. The tranquil view of the Buffalo River beside peaceful pastures lined with abundant colorful trees was outstanding.

On our way back Judy told us we should see Buffalo Point, since it would be on our way to Bull Shoals. So we decided to take the scenic route and see it. We even followed them past Marshall, then they waved us on. Such nice ladies! We had no trouble following the route they suggested. It was quite lovely country, and we even saw a little deer on the way at the side of the road.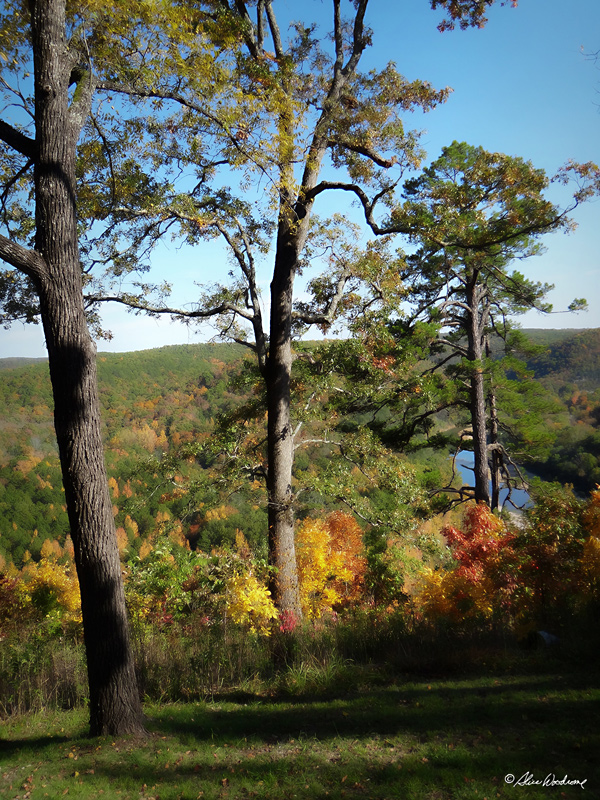 We were so glad we took the time to see Buffalo Point. It was such a great view of the Buffalo River as it flowed eastward through the Arkansas Ozarks before it empties into the White River -- a river along which we would hike later in the week.

We saw several buzzards riding the wind into the canyon and resting in the trees on Buffalo Point. It was a captivating experience. We took dozens of photos trying to catch them in flight.

Then it was on towards Bull Shoals. We stopped at a grocery store on the way to get stuff to cook while we were at the lake.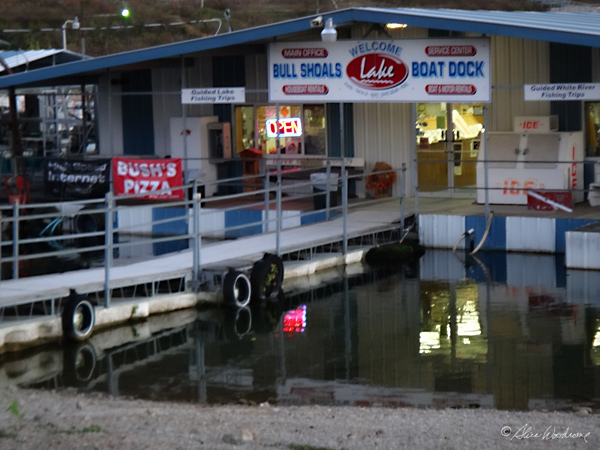 Then it was to the Lake house at Lighthouse Point Resort near the southeast side of the Bull Shoals Lake on Highway 178. We checked in first at the boat dock down the hill from the lake house. The resort and dock appeared to be mostly for people who are there to fish, but the people who run it couldn't have been nicer. Chris and I had stayed there on our visit to Bull Shoals a few years earlier, and we were looking forward to another couple nights in the roomy and comfortable lake house.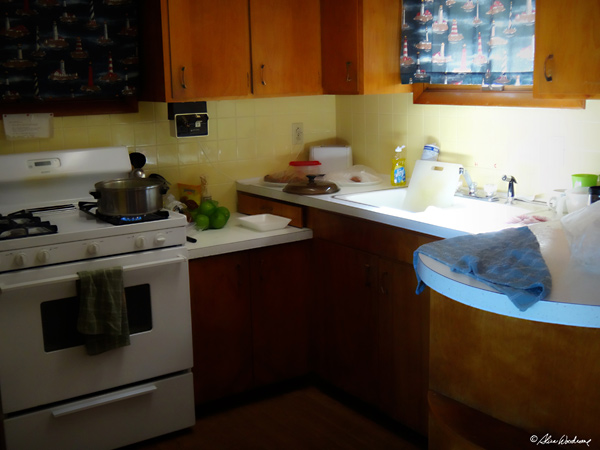 The house had deteriorated some in the years since we had been there, but it was still comfortable with a well equipped kitchen. We had a good time while we were there.

After we unpacked our bags and got it all in the lake house, I took a couple shots of the lake from our porch. The water level of the lake was down, but it was still a great view.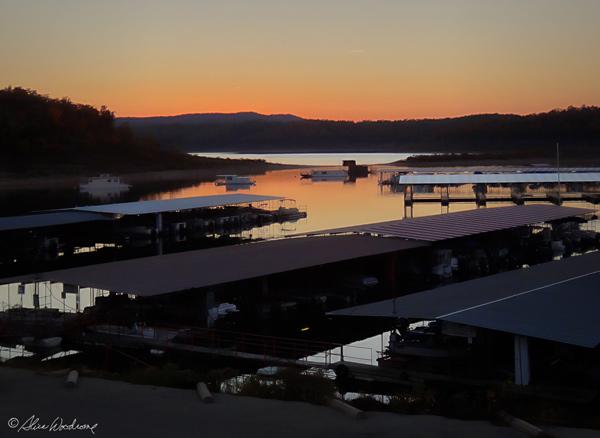 Kathy and I walked down to the boat dock in the hopes of catching the sunset over the marina, but it was getting dark, and we were too late to get any really good shots. We called Chris and she drove down the hill to the dock to get us because we needed to get supper going and it was getting quite dark. Thank goodness for cell phones.

We had fried fish, spoon bread, and a wonderful salad. It was so nice to have a real kitchen after our two days preparing the evening meal in a hotel room. I made muffins after supper for our breakfasts while we are at the cabin. It was late by the time we went to bed.



Tuesday, October 16...

We woke around seven. It was already light. We took our time over coffee and muffins, and plotted our days adventure. It was determined that we would check out nearby Bull Shoals White River State Park and hopefully take the trail along the river.

While we were discussing our day's activities an old man came to our back door and knocked on the sliding glass door. We opened it and he asked if we knew how to find out how much weight his truck could haul. We thought it very odd and Kathy said, "Do you think we are the office?" He answered, "You're not the office?" But he didn't say anything like "Sorry I bothered you"

We told him that the information is on the inside of the door and then when he seemed confused and not inclined to leave, Chris went to show him. It's the kind of thing we expect of her.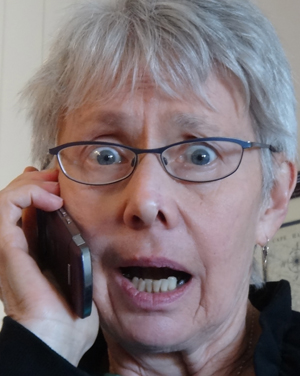 When she didn't come back we went out to see what was going on, and no one was there... no truck, no old man, no Chris... nothing. We panicked. We talked to some people who were leaving one of the cabins. They hadn't seen anything. We even called 911 and were in the process of describing Chris and answering questions when Chris came walking up the hill. Turns out the old man was harmless and lived down the hill. Chris's helpful and generous nature overcame caution. When questioned about the advisability of going off with a strange man, she said, "I thought I could take him." She will never live it down.

We decided to not go anywhere to hike until after lunch, or we would push lunch into mid afternoon, and again be eating supper just before bedtime. So we drove down to the Walmart in Flippin and got some chicken breasts for supper.

Once we got back to the cabin, we covered the chicken with marinade and put it in the frig. Then we made potato soup and grilled cheese sandwiches for our lunch. It was very tasty. By the time we ate lunch and cleaned up the kitchen, it was after one.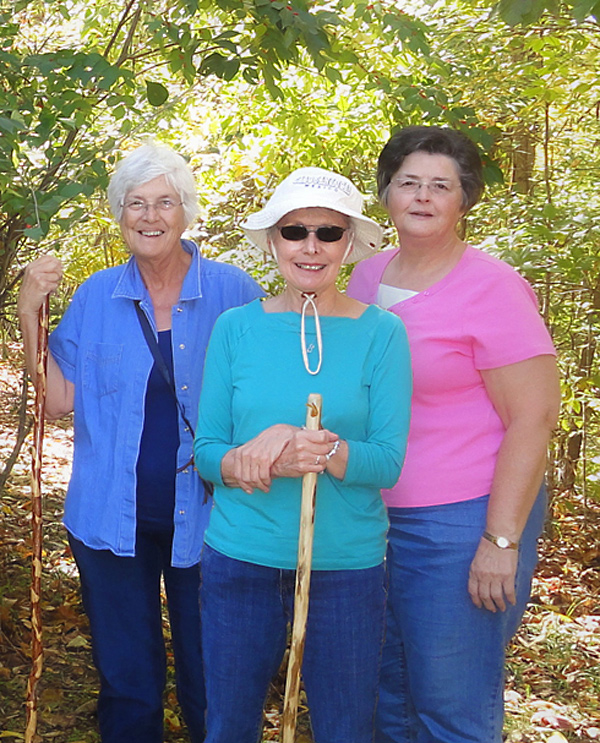 The State Park was not all that far, and after missing the trailhead going one way, we found it coming the other way. The trail called Big Bluff Trail was one and three-quarter mile long. The first part of this loop trail is a level walk over the remains of the railroad tram constructed by the U.S. Army Corps of Engineers to bring in steel and lumber from Cotter to construct Bull Shoals Dam. Once the trail crosses the paved road, it splits and becomes a loop. We took the trail on the right that took us through cedar glades and mature deciduous forests. The trail was very rocky and more difficult than we thought it would be. We finally arrived at an area on a hillside overlooking the White River, Bull Shoals Dam, and the Ozark hill country, by far the prettiest part of the hike.



It was about three-thirty when we got to the end of the trail. We went to the camping area and got a few shots of the river there before we headed back to the lake house.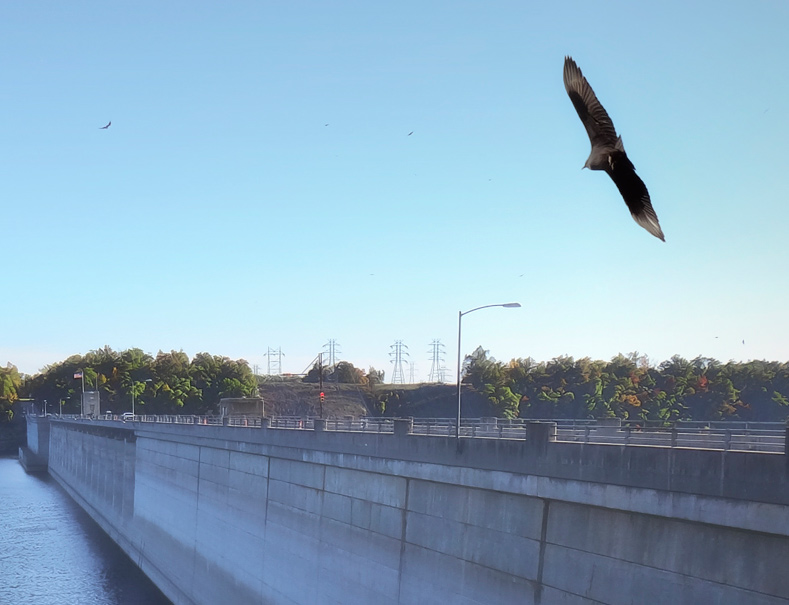 When we were crossing the dam on our way back, Kathy and I got out of the car and walked most of the way so we could get some pictures from it. Chris parked the car on the other side of the dam and took a few shots as she waited for us. There were dozens of buzzards circling the dam. I was curious as to why they were there and learned that these scavengers are permanent residents at Bull Shoals Dam on the White River side. They wait for water generation, the effluent of which contains dead minnows and other decaying materials which provide these lazy birds a free and convenient meal, sometimes several times daily.

There was much discussion between the three of us during the next day or so about whether they were rightfully named Buzzards or Vultures. We learned that the correct name is Vultures, but we decided we would continue to call them Buzzards, since that is what most people know them by in our part of the country.


When we got back to the lake house, we were exhausted, but we debated whether to grill our chicken on the grill provided or pan seer it. We decided since we would have to learn to use the grill first, it would be easier to pan seer the chicken. We put our sweet potatoes in the oven and waited until it was time to fix the rest of the meal.

We download images from our cameras to our laptop and iPads until it was time to cook in earnest. The meal was great, one of the best on the trip.

We had hoped to go down the hill to catch the sunset, but it was too late again by the time we were finished eating. I got what I could from the porch.



Wednesday, October 17th...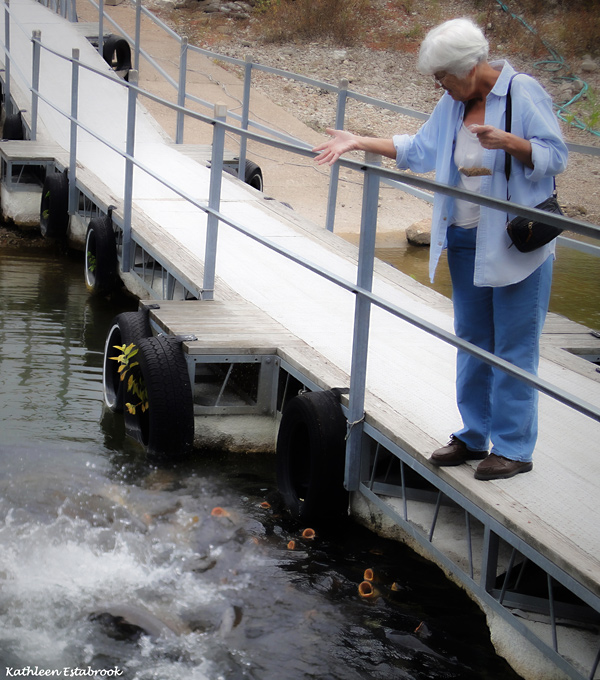 We were up at seven again, and again planned our day as we sipped coffee and munched on muffins. After packing our bags we drove down to the boat house to check out and turn in our keys. While we were there we fed the huge carp that hang around the ramp to the boat house. They sell bags of dog-food at the marina for the carp, and I'm sure it is mostly children who feed them, but it was fun.

It was cloudy so I didn't get the pictures of the marina with all the wonderful reflections I had hoped to get. We heard reports that a big storm was expected in central Arkansas that day, so we didn't know how much sight seeing we would get to do. However we would be going through some scenic country and we hoped for the best.

We headed back down toward the buffalo River, but this time we drove to the west end of the national park toward Ponca. We stopped at scenic turnoffs and other places that grabbed us along the way.

After Ponca, we headed toward Lost Valley State Park, hoping that the rain would stay away long enough for us to take the hike to the caves.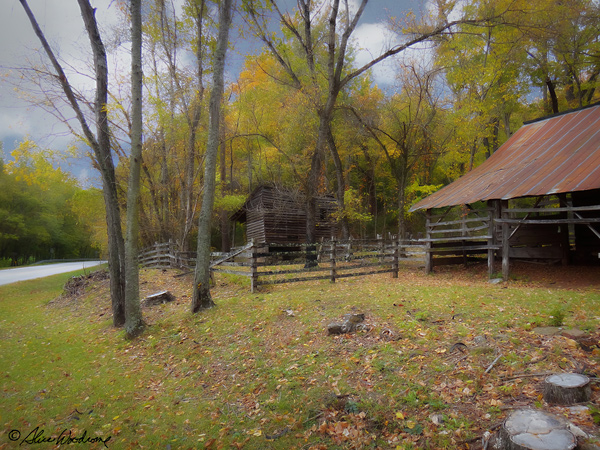 Just before we got to the trailhead, we saw an old homestead at what was called the Boxley Valley Historic District. We stopped to take pictures at the dilapidated place. The notched and hand-hewn logs took our thoughts back to pioneers who carved their home out of the wilderness. It was identified on a sign as Beaver Jim Villines boyhood home.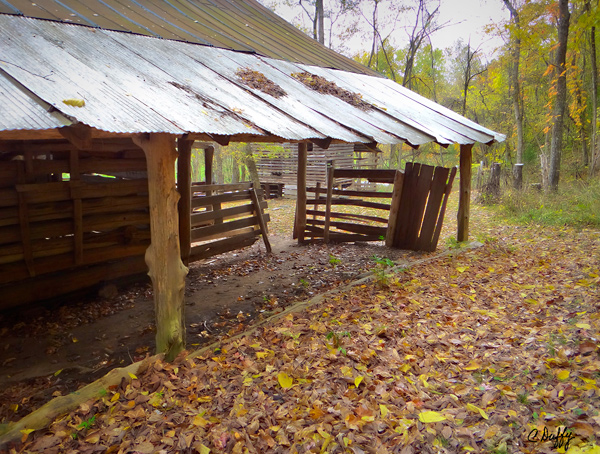 Abraham Villines and his children were among the earliest pioneer families in the Buffalo River Valley. Abraham's grandson William built the log house in 1850 for his new bride, Rebecca. Four years later their son James was born there.

James Villines was known as "Beaver Jim" for his renowned trapping ability. In the mid-twentieth century, Villines family descendants used the house as a barn, with the chimney still attached. It was fun to wander through the old barn and house, imagining what their lives must have been like.

We realized at some point before we got to the trail that we hadn't eaten lunch, but there were no restaurants anywhere around, and we were hoping to beat the rain, if possible.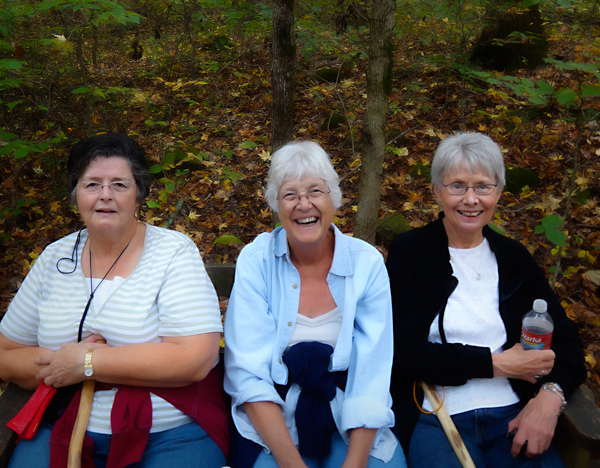 About twelve-thirty we took the Lost Valley trail, which was rocky and entirely enchanting, probably the most interesting trail we hiked. We definitely needed our walking sticks, because it was quite steep in places. We were so glad it was not raining. It was difficult enough. We didn't go to the very end, still we saw so many wonderful sights along the trail. It was two-thirty when we got back to the trailhead, hungry, tired and ready to find something to eat.

Alas, we found no restaurants on our route for quite a ways, so we resigned ourselves to a wait as we drove through the Ozark National Forest. The area was beautiful, however, and known as Arkansas's Grand Canyon, though the similarity was lost on me.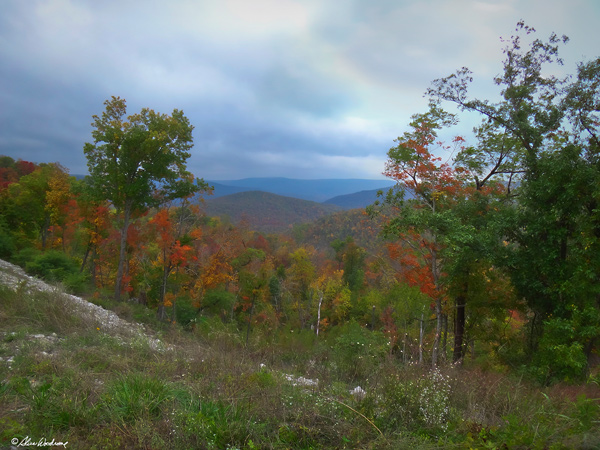 There were no businesses of any kind until we got to Deer, Arkansas, a tiny town with one structure in evidence. It was a small country store, and appeared to be the meeting place for everyone around there. It was three-thirty already, too late to eat to have any hope of not spoiling our supper. We decided to get something to drink there and eat a muffin in the car. Never had a muffin and coffee tasted so good.

We saw two deer cross the road right in front of us on highway seven as we headed down to Russellville. Thanks to our excellence driver, AKA, Chris, we did not hit them.

Thank goodness we had our iPhone map app to guide us to the Lake Dardenelle State Park because the Divine Miss G was not doing a very good job that day.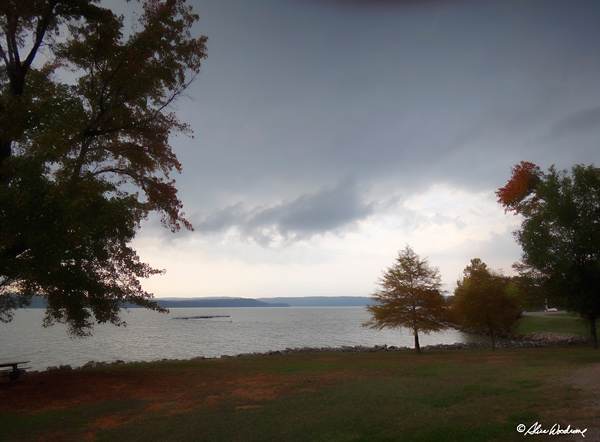 Lake Dardanelle is a sprawling thirty-four thousand acre reservoir on the Arkansas River. Besides being a beautiful lake, it would be an ideal central place from which to drive to the three mountains on our agenda.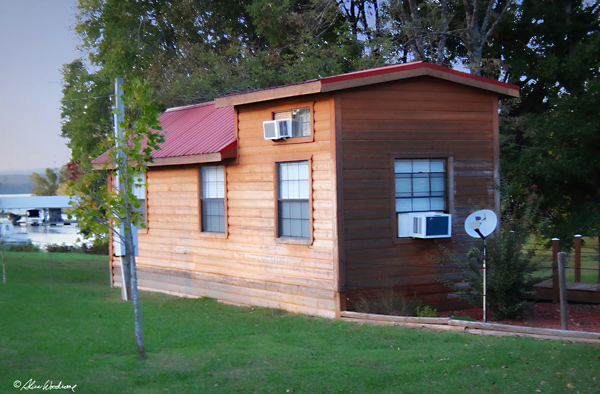 We found the park and checked in at the marina with Dennice, who directed us to our cabin. Cabin three is a charming little house, tiny actually, but we loved it. It is new, clean, cute, and equipped with about everything we could want for a short stay at the lake. Dennice brought us extra blankets when we requested them and was very gracious.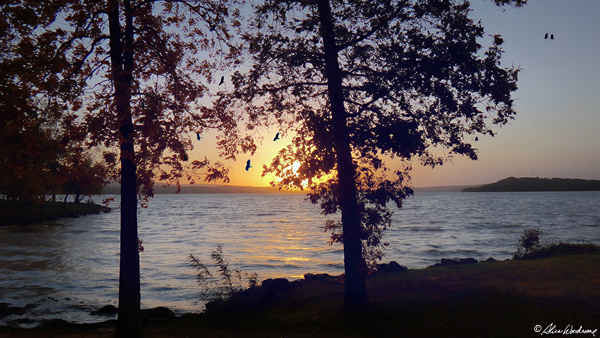 We went down to the water's edge to take a few shots of the sun as it sank toward the horizon before tackling more mundane chores.

Then it was off to the grocery store to get supplies for cooking for the two days we will be here.

When we got back from the grocery store, it was still kind of light... at least light enough to get a few more shots. As sights go, a sunset over Lake Dardanelle is hard to beat.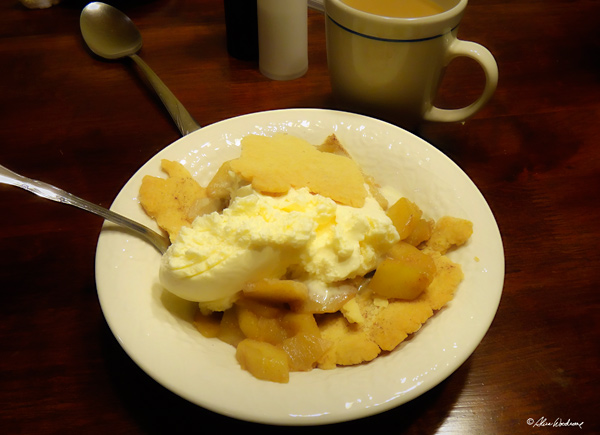 We finally took the time to unpack. Chris would be sleeping downstairs and Kathy and I, upstairs. The sleeping arrangements were interesting. Two of the three beds were mattresses on the floor at the top of a very narrow flight of steps. There was no head room at all. One had to crawl around to get in and out of bed. But it looked clean and proved to be comfortable enough.

For supper we made a wonderful salad, heated up the leftover potato soup and made a great dessert of pie crust, fried apples, and ice cream. What a delicious way to end the day.



Thursday, October 18...

I rose before dawn on the fifth day of our trip. After Kathy and I took showers and we were all dressed, we ate a bowl of oatmeal with fried apples and dates. We packed what we were going to need for the day, and headed out for Petit Jean.

Chris and I had been to Petit Jean State Park nine years ago, and remembered it as a highlight of our visit to Arkansas. Were were anxious for Kathy to see it too.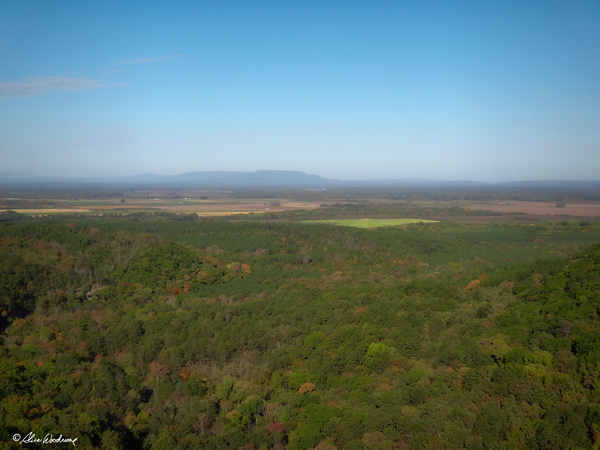 Petit Jean Mountain, with an elevation of eleven hundred and eighty feet, lies in the unique area between the Ozark and Ouachita Mountain ranges in west central Arkansas.

The park, constructed in 1933 and the first state park in Arkansas, encompasses well over two thousand acres of natural beauty and is situated at the top of the mountain.

The drive up Petit Jean was steep through unmarred woods, but not too difficult if you take it slowly... and we did. Our first photo opportunity in this lovely mountain setting was impressive, an overlook from massive rocky bluffs and a view that took my breath away. I kept wishing the fence was not there to muck up the photos. By judiciously framing and cropping, however, we got some pretty nice photos without losing any tourists.

From there, we went to the Visitor Center to get a map. We wanted to make sure we used the time we had to see what we really wanted to see. The gal there was very helpful.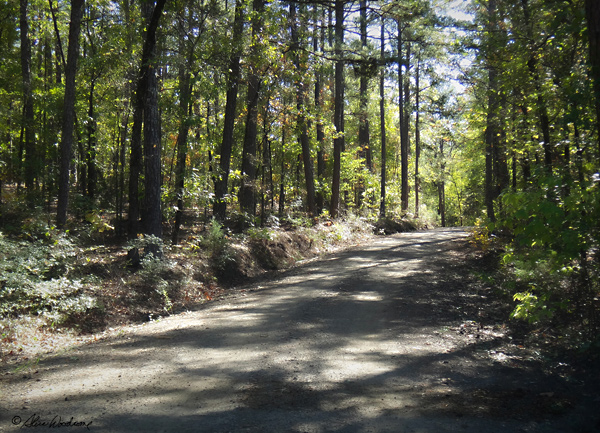 We learned that the mountain received its unusual name from the legend of Petit Jean, the story of a French girl who disguised herself as a boy and secretly accompanied her explorer sweetheart to the New World and the mountain -- where her grave site now is.

We determined to see Cedar Falls first. We knew by then that the likelihood of much water was slim since Arkansas, as well as our home state, Oklahoma, was in the middle of a protracted drought. But we were told that, unlike many of the waterfalls in Arkansas that we had hoped to see, there was actually water spilling over the falls.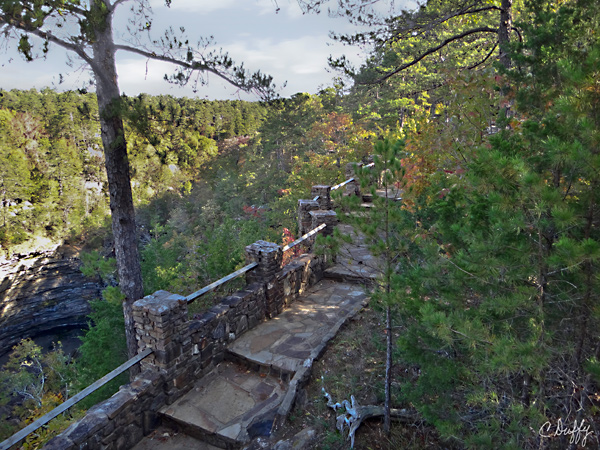 The board walk to the falls was nice, but Cedar Falls, itself -- the best known natural waterfall in Arkansas -- was disappointing. The water cascades more than ninety feet to the canyon floor, but from our vantage point far above it seemed small and unimpressive.

If we had been younger and had more time, we might have taken the two-mile Cedar Falls Trail, a hike classified as "moderate to strenuous," that winds down Cedar Creek Canyon to the "splash down" of the falls, but alas, we had to content ourselves with what we could reasonably do.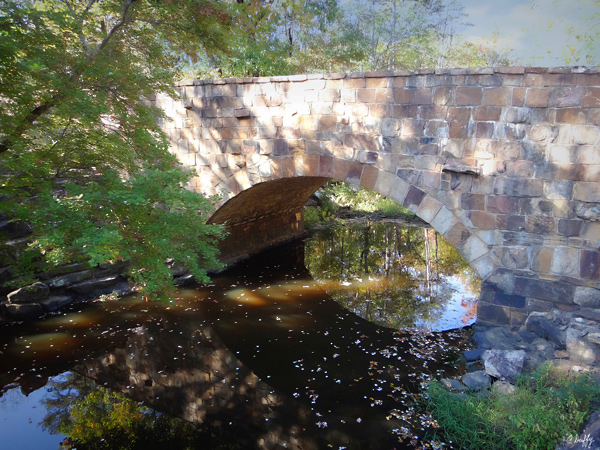 Davies Bridge was a half mile upstream from Cedar Falls, and on the way to the overlooks we wanted to see, so we stopped by there to take some pictures. The charming rock bridge was constructed with native stone in 1934 by the Civilian Conservation Corps, the "tree army" of F. D. R's New Deal during the great depression.
The bridge spanning Cedar Creek is one of only eight masonry arch bridges remaining in Arkansas and the only one featuring finished rather than rusticated stone. The water level was too low in the creek for the water to spill over the rocks, but it was still scenic.

Next was MA Richter Memorial Overlook, then the CCC Overlook. It crossed my mind that we were seeing exactly the same inspiring view that French explorers first saw three hundred years ago.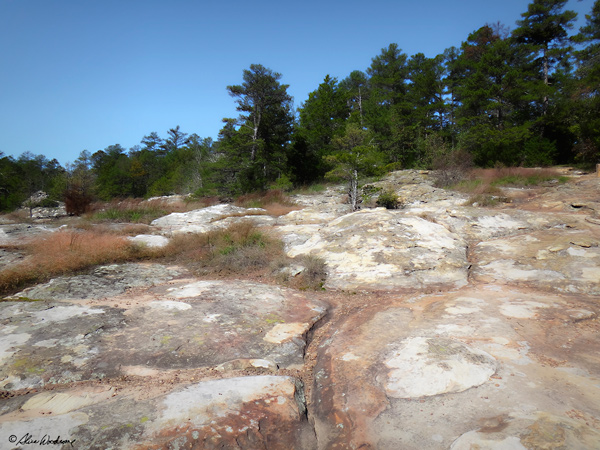 We stopped at the trailhead of the Rock House Cave Trail, but we didn't really intend to take it... until the turtle rocks enticed us further to get a better look. They are such interesting geological formations. It was a wonderful area. The trail was short -- only a quarter mile -- but it was rough going, and we wouldn't have made it without our walking sticks.

The Rock House Cave itself was huge, and was said to have been a place where Prehistoric Indians lived. The sign said that there were numerous pictographs that Indians scribed high on the ceiling of the overhang, but I suspect one needs a guide to point them out. We couldn't find them.

The Rock House Cave is not a true cave, but an immense rock shelter shaped in a semi circle, and it was deep enough that we could easily see how people might have lived there.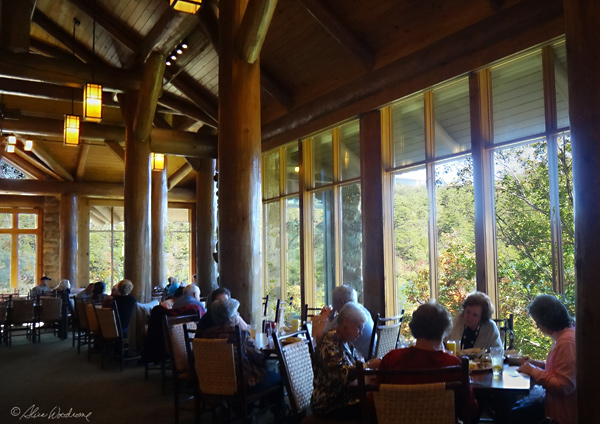 We went to lunch at the Mather Lodge, a massive stone and log building on top of Petit Jean. It was constructed in the 1930s by the CCC, but has been fully modernized. A friend had told us about the lodge, and so we had planned a nice meal there. That's what we had, too, a great fried catfish dinner. We all over-ate. The dining room was lined with large windows with great views all around of Cedar Creek Canyon.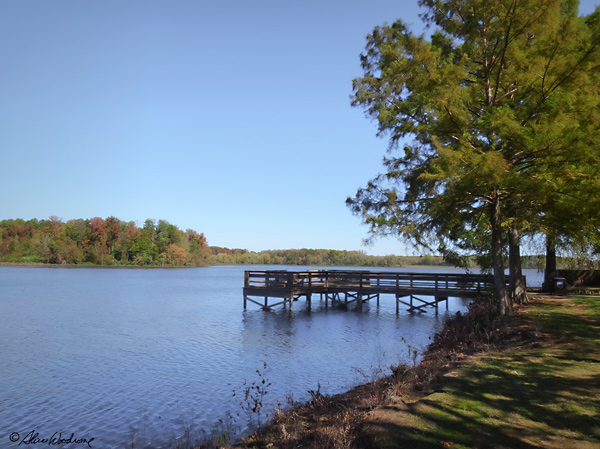 Lake Bailey, was next. It was curious to us that a good sized lake could be on top of a mountain, and a pretty lake at that. The mountaintop is flat, however, so I guess it is not that strange. A rock dam on Cedar Creek forms Lake Bailey, which consists of a hundred seventeen acres for fishing and boating.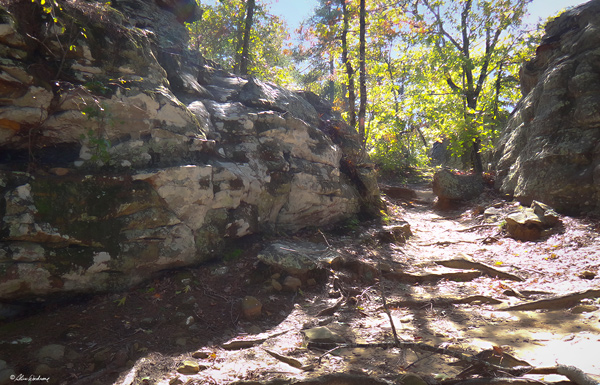 We debated whether we had the time to take the trail at the Bear Cave area before we left the mountain, but decided to go for it. That was the last thing we did on Petit Jean. The trail wound around gigantic sandstone boulders as big as buildings. Although there is no true cave, the huge rocks form a number of rock shelters and narrow passageways. Bear Cave was named when the last bear killed on Petit Jean Mountain met its end in this area. The cathedral of rock running down the center of the trail loop is believed to have been cut by Cedar Creek long ago. This passageway is called "The Eye of the Needle." We wandered through these tremendous stone monoliths and imagined the incredible forces of wind and water that caused what we saw.

Then down the mountain we drove, and found it not quite as scary as it had been coming up.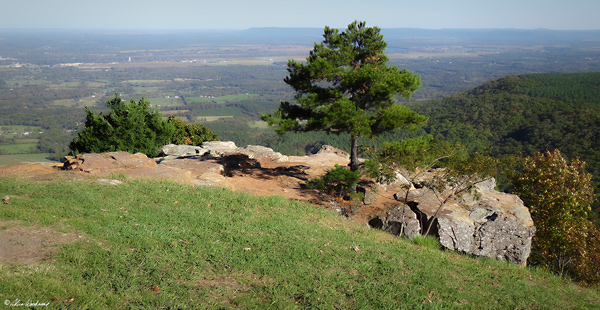 Mount Nebo, rising far above the Arkansas River Valley, was next on our itinerary, and a lot closer to where we were staying in Lake Dardenelle State Park. The mountain was named by the wife of the man who built the first log house there. She named it after the mountain in the Bible from which Moses had a view of the promised land.

The road up the mountain was one switchback after another, and more steep than the road up Petit Jean. We didn't spend nearly as much time on Nebo, but went from one overlook to the next enchanted by the sweeping views of Lake Dardenelle, the Arkansas River, and surrounding mountain ridges.

It was chilly on top the mountain, but the splendor of the vast valley below was strangely serene.

Although the state park was on top the mountain, we also saw numerous private residences within the park.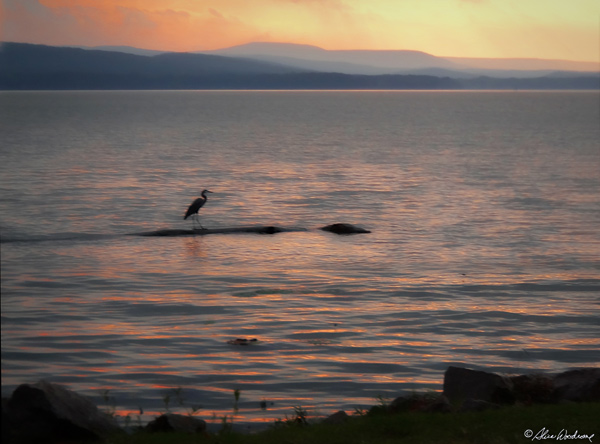 After Nebo, it was a short drive back to our cabin. As soon as we arrived, we started making a quiche and grape salad. It was quite a challenge, since we didn't have anything resembling a quiche pan or pie pan. We managed, though, and it was a wonderful meal. We ate ice cream we had left for our dessert, with some chocolate sauce we made from Swiss Miss Cocoa mix. Kathy ate her ice cream with some leftover strawberries and the last of the fried apples.

While the quiche was baking I took a few shots of the setting sun over Dardenelle and a heron in the shallows.



Friday, October 19th...

We were up at seven, packed our bags and made sandwiches with hummus and cheese, preparing plastic bags of tomatoes, lettuce and avocado to assemble them on the road.

After we loaded our bags in the car, we took our trash out and the keys to the boat house to check out.

We programmed the Divine Miss G and headed out at nine-thirty toward Mount Magazine State Park, the state's highest peak at two thousand, seven hundred and fifty-three feet. It was something over an hours drive to the mountain, but the time went quickly as we talked, laughed, and quoted poems we memorized in high school.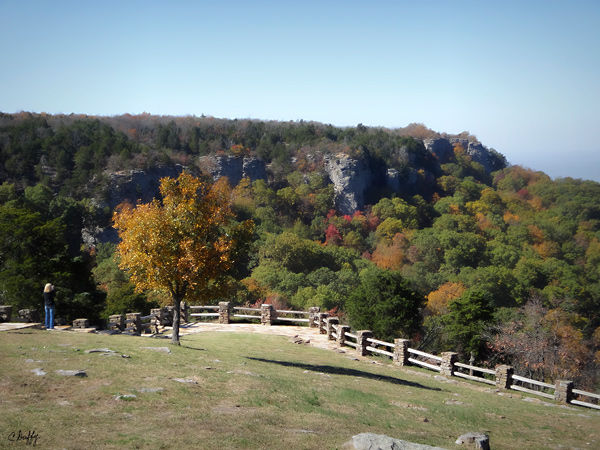 The drive up Magazine was long, winding and lovely, but not as filled with hairpin curves as Nebo. After stopping at one overlook we went to the visitors center and got a map of the park. We elected to drive to the overlooks first, not sure if we were going on a hike or not. It was cold and windy to the extreme.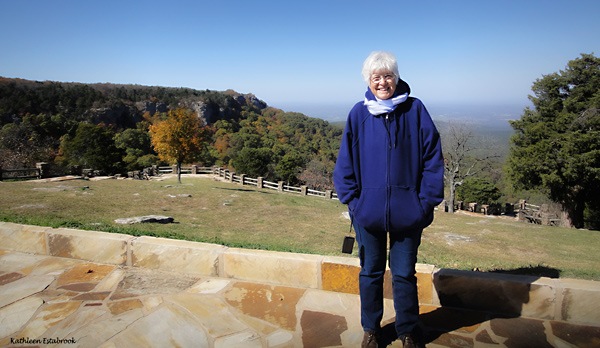 The scenery at the overlooks was magnificent, though, with panoramic views of the surrounding Ozark National Forest, Arkansas and Petit Jean river valleys, and Ouachita National Forest to the south. We didn't feel like we missed anything by not taking one of the trails.

It was so cold we ate our sandwiches in the car at about twelve-thirty, along with chips, and some celery and cream cheese that was left over. We also ate the leftover grape salad, forgetting that we had planned to have it with our quiche for supper. We had to share one plastic fork to eat it, passing it around about three times.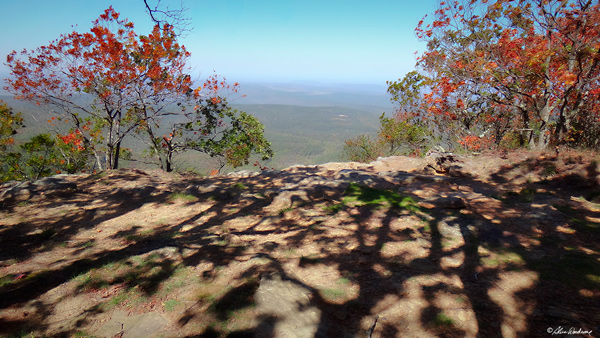 We drove to the other side of the park after lunch to see another overlook. By then the wind was a bit better and it was a little warmer. We still decided not to take the time to hike one of the trails. We were ready to move on down the mountain.

We left the mountain about one forty-five by a different road and headed toward Fort Smith. I think all three of us were ready for civilization and the comforts it affords.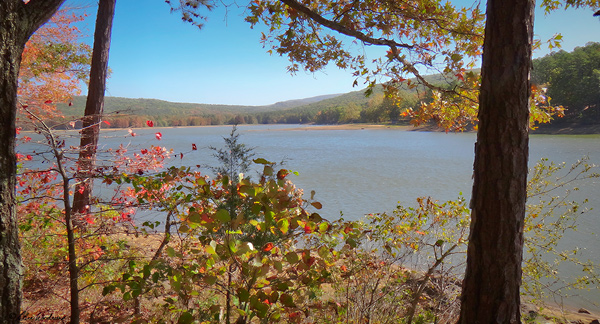 Remembering that we had been there nine years ago, we made a short stop at Cove Lake in the shadow of Mount Magazine in the Ozark National Forest. It was a peaceful place and altogether lovely, but we didn't stay long enough to take a hike.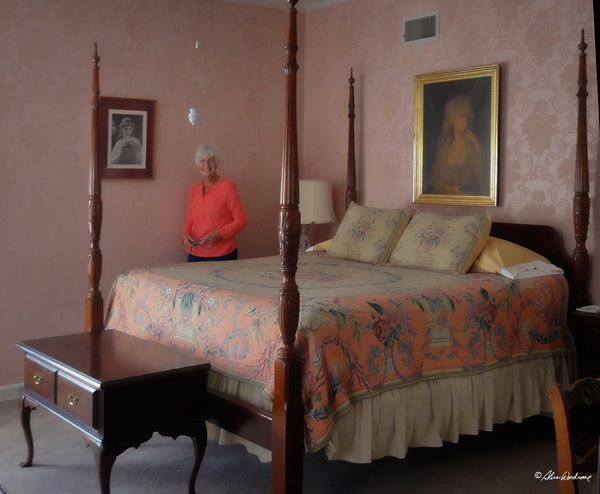 We arrived at Fort Smith and found Beland Manor, our bed and breakfast, about four in the afternoon. It is a lovely place, and pretty luxurious after our week of roughing it. The Host, Suzy, is very gracious. We rented two rooms, with Kathy sleeping in the biggest of the two with me, but in a twin bed they brought in.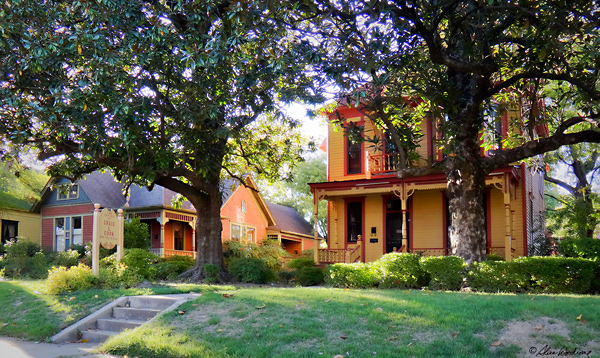 After we unpacked and settled into our rooms, we took a little tour of the historic district. We love to take pictures of old buildings.

After we got back to the Bed and Breakfast, we went to the upstairs common area, and heated up our leftover quiche in the microwave; it was still excellent. We had noticed a Braums just a block or two from Beland Manor, so we drove there and had dessert. It was meant to be!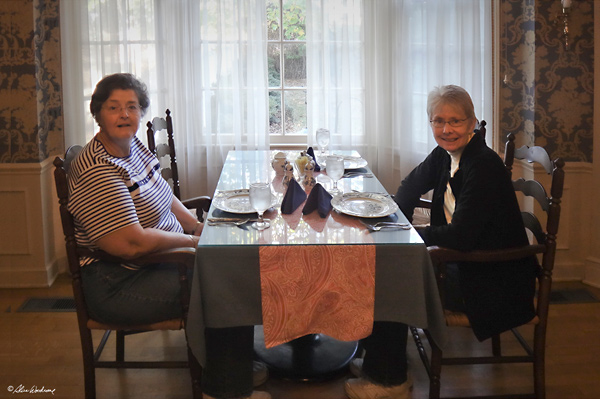 Back at the Inn, we took our baths and put on the thick soft robes provided for guests in each closet. Chris and Kathy watched a movie while I updated the church website and the Late Bloomers website, too.



Saturday, October 20th...

We woke at seven in luxurious surroundings to the smell of bread baking. We put on our robes and walked the few steps to the landing, where our host had coffee waiting. It was nice to have it all ready. We took our cups back to our room and packed our bags. At eight thirty we went downstairs and had our breakfast, which was graciously served by Mike, our host. It was a picture perfect soufflé, ham, and blueberry banana bread and cranberry-orange juice. Betty, the cat joined us, too.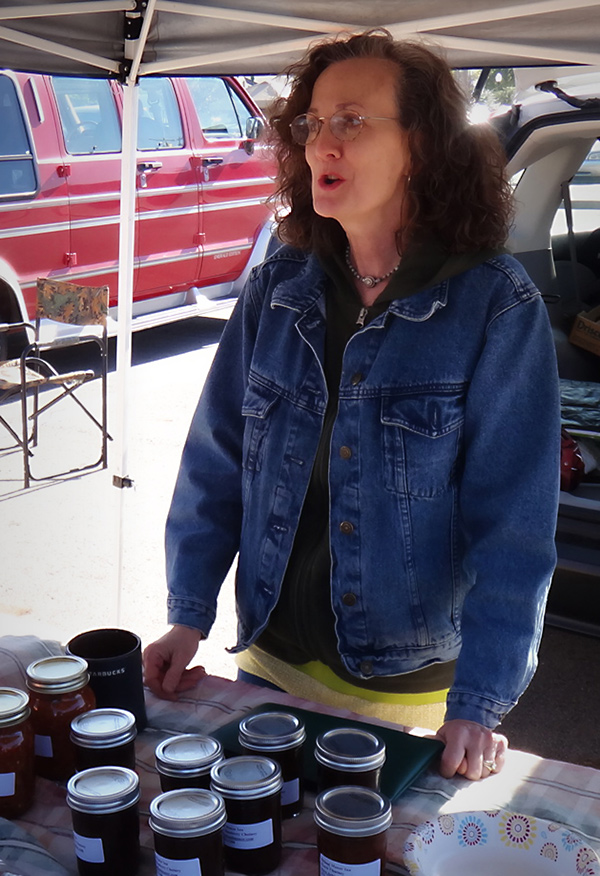 Mike talked about Suzy being at the farmers market, so we decided to use the time we had before checkout time to take it in. Mike gave us directions, and we got there without much trouble. Suzy was there, minding their booth, selling salsa, fruit breads, and such. Mike had mentioned that Suzy had made apple dumplings early that morning for the farmers market, but, alas, she was sold out of those by the time we got there. We did buy some other things from Suzy and the other vendors there -- green tomatoes to fry, salsa, fresh corn, green beans, and peanut butter.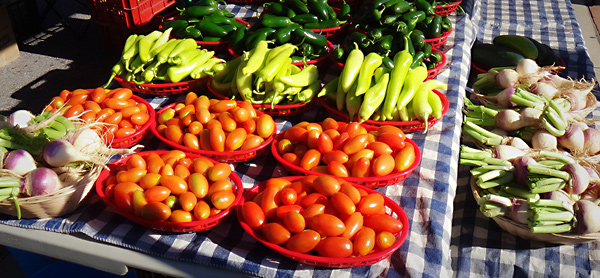 We got back to the Inn in time to check out on time and were on our way home shortly after eleven. Overall, it was a lovely way to spend the last night of our trip.

We left Fort Smith and crossed the Arkansas River and into Oklahoma on the last leg of our journey.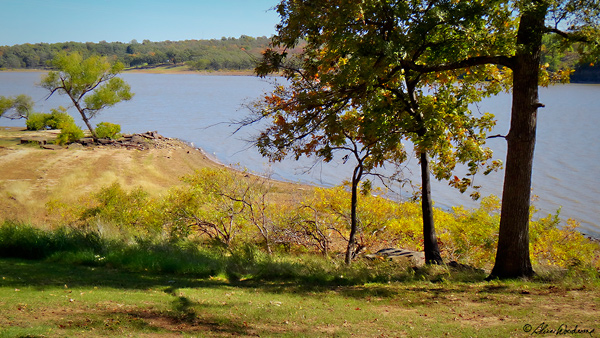 Since we had all afternoon to get home, we took the exit to Lake Eufaula State Park, thinking perhaps we might even eat there at the cafe at the marina. We didn't have all day to explore the park or hike one of the trails, but we got a few shots then checked out the marina cafe. We decided to just get a coffee and continued on.

It was after three in the afternoon by the time we stopped for lunch in Shawnee, Oklahoma, at a Denny's. We arrived home around five in the afternoon, tired and satisfied. It had been a nice week, not only because of the sights that Arkansas afforded, but the company was great.