June 9, 2018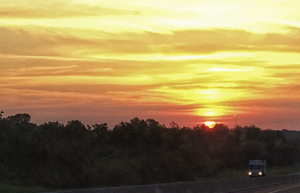 Chris and I left Oklahoma City at 5:40 on a lovely Saturday morning in early June. After getting a good rain on our gardens, we left concern for our daylilies behind and headed up the turnpike toward Tulsa and eventually the upper peninsula of Michigan. We delayed our annual sister trip this year because those in the know told us the waterfalls would be more likely to be spectacular now than in the fall when we usually take our trip. We planned to pick up Kathy on our way northwest of Chicago, probably on Sunday morning. It would take twelve hours according to my iPhone maps, so that's probably too long to drive in one day.
We encountered a lot of construction along the turnpike, especially from Stroud to Tulsa, but once we got to Tulsa about 7:30 there was a notable lack of road work.
As the long shadows of early morning shortened with the rising sun we drove through the green, rolling hills of northeast Oklahoma. Roof tops of farmhouses and barns occasionally peeked up along a tree line beside fields dotted with bales of winter wheat or grazing cattle.
We stopped in at the Vinita comfort station to use their facilities and get a drink and were on our way to Joplin and the Oklahoma-Missouri line.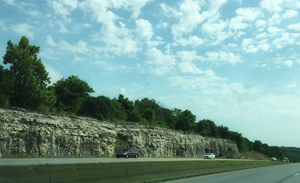 When we crossed into Missouri, we began to see lots of wildflowers along the highway—yellow coreopsis, Queen Ann's lace, and orange butterflyweed. Many others we either didn't know or couldn't identify at a distance, but the big patches of purple coneflowers were unmistakable. Rocky outcroppings began to appear with some regularity, as did signs for tourist attractions, reminding us we were getting into the Ozarks, where we vacationed as children.
We ran into a tiny shower north of Springfield, Missouri, and from the look of the dark clouds ahead, thought we were going to be caught in a deluge. The road turned, however, and we stayed dry.
We ate at St. Robert, Missouri at a Panara Bread and had a delicious strawberry poppy seed salad with chicken. When we get to our destination, we plan to cook our meals as much as we can. The house we will be renting for our stay is supposed to have a well-equipped kitchen and we both like to cook, so it makes sense to prepare our own meals.
Our gas tank was almost empty when we thought to check, and filled it up in Sullivan, Missouri. I called my husband to see if everything was okay at home. My little dog understandably does not like me going on our sister trips. But Warren said she was eating, so I guess she is not too distraught over my absence.
Alas, rain got us south of Saint Louis which slowed us down a bit. Driving through rain is not fun, and makes the scenery along the way difficult to enjoy, but Chris persevered.
The worst of our travel woes came when the bridge was closed to cross the Mississippi River into Illinois. So there we were in the middle of Saint Louis, and no way to cross the river. The traffic was maddening, the detour signs confusing, and our nerves were jangled, but eventually, we found an alternate route across the river further north, in Alton. We didn't keep track but it must have delayed us at least a half hour—a very frustrating half hour. If it wasn't for my iPhone that got us across the river, and then the Divine Miss G (Chris's GPS) which took us to the right highway again, we might still be looking for a bridge over the Mississippi. But we did finally get on I-55 going north to Chicago. That pretty well nixed any hope of getting to Kathy's before nightfall.

We were surprised by how few road signs there were in Illinois compared to Missouri. The country was not nearly as hilly either—and farmland mostly. It was lovely in its own way with lots of trees and fields of corn and soybeans. Barns were bigger, and most farms had multiple grain bins and silos. We hardly saw any cattle or other livestock.
We ate supper north of Lincoln at a Wendy's. We had a half Southwest avocado salad, and it was just the right size.
When we were about a hundred miles from Chicago, we started looking online for motels on the route, but they were either full, had only king beds or were outrageously expensive. Checking our time again, we figured we would get to Kathy's house before nightfall if there were no delays.
We texted her. She informed us that she had moose tracks ice cream. Oh, dear! Moose tracks is impossible to resist. I would really like to not gain any weight on this trip, but that's going to be a tall order.
Even though it was Saturday, driving up around Chicago was difficult, and the tolls were confusing and very high, but between the two GPSs we managed to make it to "Kathy's Bed and Breakfast" a little after eight. We talked for a little and had our ice cream snack, but Chris and I were tired after driving all the way from Oklahoma, we went to bed around 9:15. Tomorrow should be easy compared to today.
Sunday, June 10
Chris was the first one up—a truly unusual happenstance. She did get a good night's sleep, which is good. It's always good to have the driver well-rested.
After a homemade piece of yummy banana nut bread that Kathy made, we packed the car and the three of us got away a little after seven. We were no sooner on highway I-94 than it began to pour rain. The tolls around the Chicago area were even more ridiculous this morning. The Rain did end and was replaced by heavy fog. We had plenty of time, however, so it wasn't a big problem, except it was not very relaxing for our driver.
The fog was gone by Milwaukee. We saw wildflowers along the route that I wish I had known. Lots of little white flowers, yellow one, and a couple of different kinds of purple ones. There was a gorgeous purple flower that I especially loved. We looked for a long time for a patch of them on the right side of the highway so we could get a picture of them and identify them. They looked from the car like they might be lupines, but without a close up picture it is only speculation.
The cotton from cottonwood trees was so thick around Green Bay that it almost looked like it was snowing.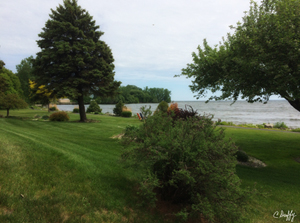 We decided to take the route that hugs the coast of the bay because it looked more interesting. In Menomonee we stopped for lunch at Schloegel's Bay View Restaurant. The view was great—right on the bay. Chris and I split a BLT and both had a bowl of chicken spatzle soup.
We stopped a couple of times along the road to look at the bay and take a few pictures as we headed up 35 along the coast toward Marquette. We discovered that we are in the eastern time zone. Who knew?
Marquette is a charming little town. Lilac bloomed everywhere. They were so far behind our season in Oklahoma City.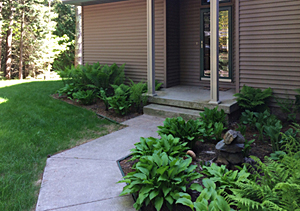 We got to our rent house just about fifteen minutes early. Josie, the cleaning lady was there, and told us we could go on in. The house is very nice. The kitchen looked like it had everything we would need, and I think it will be a perfect place. We put our things away, looked around the place. The Chocolay river is not as close as we imagined. You can see it from the house, but to get there, one must go down a bit of a difficult hill and through a little patch of woods.
Chris got stung by a bee on the sun porch—not the wildlife we were hoping to encounter. Chipmunks did scurry around outside the house occasionally.
We went to the grocery store less than a mile away in Marquette, Michigan. We bought groceries for tonight and tomorrow.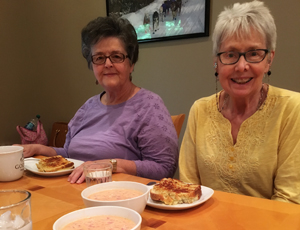 When we got back we made homemade tomato soup and toasted cheese sandwiches. They tasted really perfect after two days of traveling.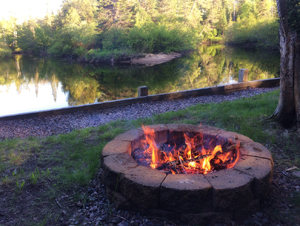 After supper we decided to go down to the river so we got our jackets, and walking sticks, and went out the back door onto the screened-in porch. We had a bit of an adventure when we realized the back door locks when it closes.
Josie had said to give her a call if we needed anything, so Chris called her. She wasn't there. She then called John, our host, but had to leave a message there too. We waited on the porch until Chris finally got hold of John. Thank goodness, it was easy because he was in town somewhere drinking. He told us where a hidden key was.
We took plastic chairs from the porch, and a key, down to the fire pit, gathered kindling wood, and built a fire. We sat around watching the flames and the water for a while next to the river bend. It was not dark yet, but given the fact that Kathy fell on the steep path coming down to the river, we thought it best to go up while we could still see. We were tired anyway after driving so far.
We saw a mother duck and babies swimming in the river. So cute. When we came back up to the house, we put on our jammies and were soon in our respective bedrooms.
Monday, June 11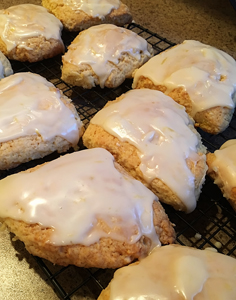 Waking at 6 in the morning, while still in my pajamas, I made orange scones. Kathy came in the kitchen when they were about ready to come out of the oven. They were not hot anymore by the time Chris made it up and had hers at 7:30. We had a lot left over, but they are even better grilled in butter the next day.
After breakfast we looked at our maps and decided to head up to the Keweenaw peninsula and see what is up there. We got just a little down the road and remembered our hiking sticks, so we went back. Then we got going the wrong direction and until we saw the lake on the wrong side of the road, we didn't realize it. So we turned around, thankfully before we lost too much time.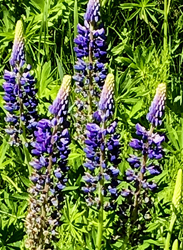 We saw a wonderful stand of purple flowers and got out to see them up close. They are not lupines, but I thought were some kid of phlox, except they have four petals instead of five. I went online and was finally able to identify them as dame's rocket. So pretty. Later I saw a stand of wildflowers that we stopped to take pictures of and it was lupine. Yah.
"These waterfalls better be worth it," Chris said after traveling for a couple hours and we still hadn't gotten to the Keweenaw peninsula. We decided to not go so far everyday but just a day or two, and stay closer around Marquette the rest of the week.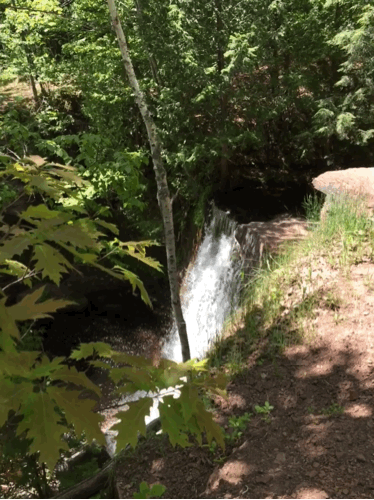 Our first waterfall was close to Hubble. After getting very sparse directions to it from the tour book, we went there—despite the fact that no signs whatsoever were in evidence. The trail was treacherous for three old ladies, and we swore that it would only be roadside waterfalls from now on. The falls would have been pretty spectacular had we been able to get a good view of it, but unless one wanted to take their life in their hands, it was impossible to get a good vantage point.
In fact at one point, I did fear for my life trying to climb up an incline. I lost my sunglasses in the process, something that normally would have caused me concern—especially since they were really Chris's—but it seemed unimportant at the time because I was so afraid of falling as I held onto protruding roots and branches to try to pull my old body up.
It was a nice waterfall however, and had we not driven a thousand miles to see it and thrown caution to the wind to get a glimpse of it, it might have warranted a higher rating… maybe all the way to mildly impressive.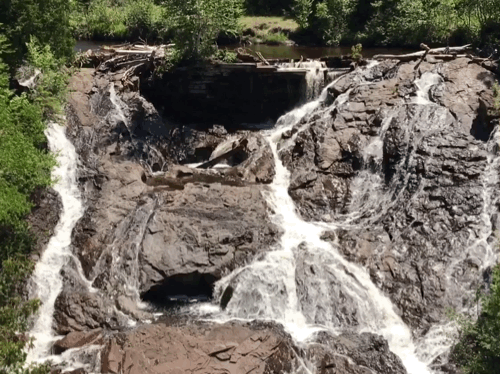 In contrast, Eagle River Falls was great. Right on the highway and lovely. There was a pedestrian bridge where we could get a really good view. They should all be that easy to see.
Jacob's falls was on the same highway and we could have taken pictures from the car because it was right beside the road.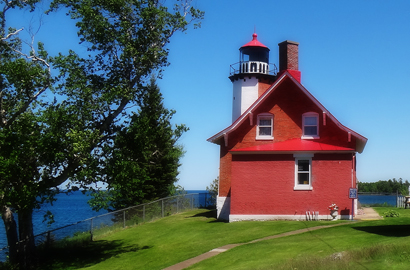 Our next stop was Eagle Harbor where they had a lighthouse. We didn't go in the lighthouse but walked along the grounds taking pictures.
Silver River Falls was lovely. We had to hike just a ways to get a good vantage point. But it was definitely a good stop. The last place we went at the end of Keweenaw peninsula was Copper Harbor, the site of the shipwreck of the John Jacob Astor in 1844. We were all dying for some refreshment, Kathy and I for coffee, caffeine addicted that we are. We found an ice cream place and had Sea salt caramel ice cream and Chris had a hot fudge Sunday. It was wonderful, and while we ate it and drank our coffee we decided that we were not going to have super nachoes tonight as we planned because we are going to be getting back way to late to eat a heavy meal like that. We'll have it for lunch tomorrow because it is supposed to rain so we will likely stay close to home.
We looked at the lighthouse from an observation deck in Copper Harbor, then left about 5 PM and headed back home, which we figure will take a good two hours. It's a pretty drive however, lots of trees, hills and curvy roads.
We stopped at a grocery store and bought a few things for a light supper, fruit, yogurt, bread, etc. It was still light when we arrived back at our house at 8:30. We were so tired that we decided to just eat and not build a fire down at the river tonight. It would be dark when we came back up and we were too weary to fight it. Getting old takes a toll.
Kathy and I had fruit and yogurt for supper, and Chris grilled a cheese sandwich.
Tuesday, June 12
Kathy and I woke around 6 in the morning. The grilled orange scones were delish. Chris had oatmeal.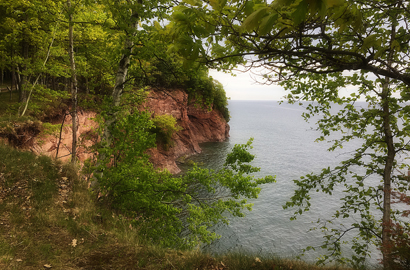 The weather forecast looked more promising. Evidently it had rained over night. How lucky were we? We decided to go to Presque Isle Park just a few miles from our house.
It took twenty minutes to get there. It was a bit cool when we arrived, but warmed up to a comfortable temperature by the time we were there an hour or so and had expended energy walking.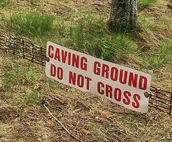 The park is lovely. They had the rather wide area next to the cliff's edge fenced off with signs that said, "Stay out. Caving Area." We speculated on what that meant and decided it was an area that the deer, which we had learned were plentiful, had their nests and gave birth to their babies. All three of us! It finally dawned on us that the word "calving" has an "L" in it. Duh! We felt so stupid.
We enjoyed the hike along a cliff, safely back from the edge, and saw some lovely scenery.
It was to the nearby marina next, and a little patch of sand that went down to the lake. Deer tracks were all over the little beach, so I guess we were the first people there that morning. The marina was not too impressive, and we didn't get many good pictures. There were very few boats and the sun wasn't shining. Kathy took off her shoes and waded in Lake Superior so she could say she did. I elected not to. I thought the water was probably cold and my feet were warm and dry.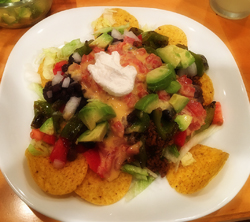 We decided to come back to the park after lunch, but we had a Mexican dinner planned so went home around 11:30 to cook our lunch. It was a great meal. We dawdled around to look at pictures and have coffee before heading back to the park.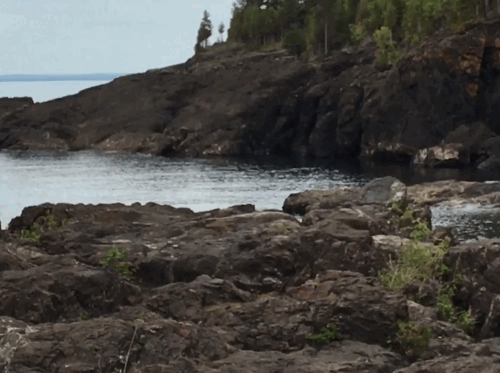 We took a drive along the Peter White Drive around the park, then took a hike along the shore and out on a bunch of huge rocks. I hope we burned off a few calories. We definitely needed to after our lunch.
We stopped at a beach on our way out of the park and again Kathy took off her shoes and went in the lake.
On the way back Kathy suggested we stop at the dairy store in Marquette and have a dip of ice cream. So, of course, we did. It was good—and it was expensive.
When we got back to the house, we started a load of wash, and discovered that the dishwasher did not clean our dishes. Chris slammed the door and that appeared to do the trick.
Josie's husband, who had been trying to find someone to take us on a boat ride along the river, came by to tell us he couldn't find anyone. While he was there, it came out that they expected us to leave Friday morning instead of Saturday. Chris had us down leaving Saturday. Duh! We were glad we found out before Friday. That could have gotten sticky.
We all had a snack for our supper, yogurt and fruit mostly. After over indulging earlier in the day, it was not that hard to eat light.
We built another fire and sat down at the river with it until it burned down, although it wasn't quite dark yet. The walk to the house back up the hill hadn't gotten less dangerous, so that was probably a good thing.
When we got back to the house, we talked about what we were going to do with our last two days, which had just shrunk from three days.
We discussed how to best enjoy our last two days, and decided to sleep on it and decide in the morning.
Wednesday, June 13
I was the first up in the morning, had already grilled and enjoyed a scone and my first cup of coffee when Chris appeared and then Kathy. No one was in a hurry for anything.
We made our plans for today and tomorrow over breakfast, which was Pictured Rock cruise on Thursday and downtown Marquette today.
Then we went to the grocery store and got ingredients to make chili for today, and for sandwiches for a picnic lunch tomorrow when we plan to go to Munising to take the tour of the Pictured Rocks.
We got back and made our chili, then Kathy and I took a hike in the neighborhood while Chris stayed home and watched the chili and rested for our tour around downtown Marquette this afternoon.
It was a nice little hike. We left sticks arranged in arrows every time we made a turn so we wouldn't forget how to get back. We met some very nice people who live around there who had never seen anyone else on the path. Seemed odd.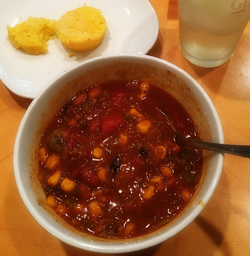 Our chili was really good. After lunch, we lounged around the house until about 1:45, then headed downtown to take pictures of interesting buildings. Probably seems odd to some people to do on vacation, but Chris and I would rather look at old buildings than shop. That may not have been Kathy's preference, but she is always agreeable. It's one reason she is such good company on our sister trips.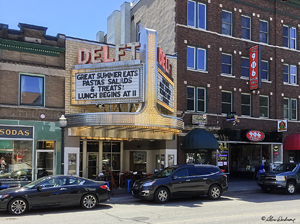 We parked at a parking meter and put in enough for at least a couple of hours and walked around, going in some shops and taking pictures outside. When we were taking pictures of an old catholic church, a person on the street told us we could go inside, and that it was beautiful. So we did. She was right.
We did just a little shopping, but didn't get much. Chris bought some earrings and a coffee mug. I bought some spices at a shop. Kathy saved her money.
There was a little marina on front street that we visited and took two or three pictures. Again, there were few boats to photograph. It was sunny but the water was a bit choppy so there weren't any reflections. All the marinas we saw had hardly any boats, and we wondered where everyone kept theirs. Surely with Lake Superior so close, there had to be a lot of boats somewhere, but we never say them.
We got back to the cabin at 5 PM and sat around and looked at photographs we had taken.
We all ate whatever sounded good to us again—mostly fruit yogurt and grilled scones.
I made the butter crust dough for our dessert tomorrow, and refrigerated it, then we cut up the apples and fried them so when we get back tomorrow from Munising, it will be simple to fix. The deconstructed apple pie ala mode is a tradition on our sister trips. We usually have it on our last night out before heading home.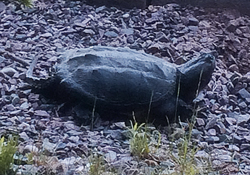 We had our last fire at the river when the light began to fade. A snapping turtle was up near our chairs when we went down. He was alive, but I don't think well because he was not too snappy. I pushed him back into the water and hoped that was what was best for him. If it wasn't, I wouldn't feel too bad, however, because every night we built a fire—including our last night—we saw the mother duck and her tiny ducklings swimming in the river. I knew snapping turtles were not above making a meal of a baby duck. And if I had to take sides in that natural drama, I would always be in the duck's corner.
Kathy saw a deer our last night down by the river. I turned in time to see the brush move when she alerted us. We also saw something swimming across the river that we didn't see well enough to identify—perhaps an otter.
We devised a way to douse the fire with a bucket and one of our walking sticks to get down to the water. Kathy took a video of me doing it with Chris holding on to me so I wouldn't fall in. It's kind of funny.
When our last fire was out, we brought up the chairs and went to bed about 10:30. Our last day would be a long one.
Thursday June 14
All of us rose early, had a breakfast of oatmeal with dates and fried apples. After making our sandwiches and packing our lunch, we were on our way to Munising to see what we can see, and hopefully book a cruise tonight. It was about 35 miles away.
On our way out we saw the second dead deer at our turn onto the highway being picked up by the highway department. So far we've seen 14 dead deer and three live ones. Sad to see so many dead ones.
On the road to Munising, I saw three large waterbirds at the side of the road, like storks, that I would have to try to identify. They had a bit of red on their heads, so that should narrow it down. I later learned they were sandhill cranes.
The trip to Munising took about 45 minutes. We went to the ticket office first and bought our tickets for the sunset cruise—the one that includes the spray falls. I thought I lost my sunglasses and went back for them, only to find them in my purse. Duh!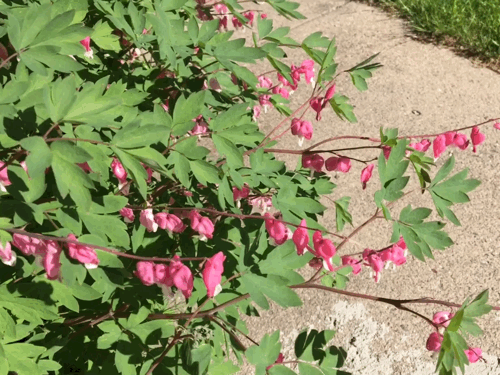 We went to the Falling Rocks Cafe and Book Store to discuss our day. We wanted to see several waterfalls in the area before our cruise tonight. Chris got an almond steamy, which made her inordinately happy. Kathy and I had coffee and we studied our maps of Munising, to get a plan organized to use our time effectively. We talked to the proprietor and learned how to pronounce Munising. (Mew-ni-sing). He was very nice and I think slightly amused by our ignorance.
We went to try to find the visitor's station, but ran into a detour that got us mixed up, but a very helpful ranger at the ranger's station gave me a map and told me about the falls and other points of interest in the area. He was extremely personable and we chatted for a while as Chris and Kathy waited in the car. Kathy finally came in to see if I was being held captive. Chris was going to call 911 if Kathy didn't come out in five minutes. He also told us the way to get to the visitor's station. The detour cut the town right in half and you had to go miles out of the way to get to the other side.
Alger Falls was first on our list. It was a roadside falls. The only hiking involved was crossing the busy highway. It seemed to worry Kathy more than the rest of us.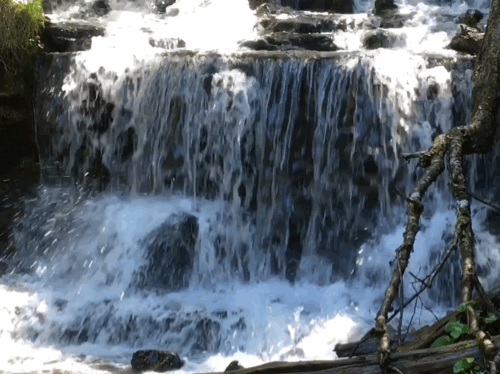 Wagner Falls was close by, but we had to turn around to get on the correct highway. Chris made a u-turn on the highway, much to Kathy's dismay. We found it easily because it was well marked. Many of the places in Michigan are not marked well at all. Wagner Falls was wonderful.
We then decided to try to follow the directions the ranger gave us to the visitor's center. We were certain we were lost until we blundered our way there. The Munising Falls was right there, too. It was a short hike to the falls, and it was a great falls, but the light was all wrong and we could barely see. We decided to try to come back in the afternoon when the light would be better.
We talked with a lady at the center and didn't learn too much we didn't already know from talking to the ranger. She recommended Sand Point, however, so we stopped there. Chris and I took our shoes and socks off and went far enough into Lake Superior to wet our feet good like Kathy had done earlier. The water was quite cold.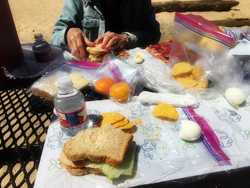 We ate our lunch at a picnic table in the sun, which felt good because it was chilly in the shade. Our lunch tasted really yummy. Turkey cheese sandwiches, chips, tangerines, boiled eggs.
Kathy picked up a piece of Lake Superior drift wood and we were on our way again, this time to Miner's Falls.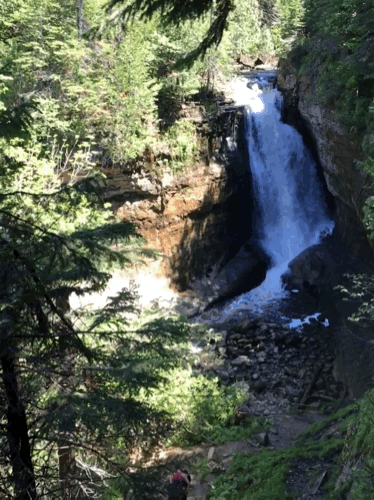 We walked through lovely woods, tall trees, lots of little blue wildflowers and dappled sunshine on the path. It was my favorite woods of the trip. The hike was 1.2 miles round trip. We forgot to bring water with us, which was sorely missed before we returned. The falls were great. One could either get a glimpse through the trees or take 78 wooden steps down to a terrific viewing platform.
We drove north to Miner's Castle next, which Chris mistakenly thought were the ruins of an old castle. It was a rock formation, of course.
There were three overlooks, the first was the best by far. The second was just a view of the lake. The third we could have skipped. It went down a very long board walk and then of course, we had to climb it again. The view was not nearly as nice as the first and wore us out before we hiked back up the boardwalk.
We were getting worried about our iPhone batteries and wanted a lot of juice for the cruise tonight.
We went back to Munising Falls at nearly five o'clock, and the light was perfect. Chris was spent and had to wait in the car as Kathy and I went to the falls to get a better shot. At least the hike was short to that falls.
We drove back to the side of town where the cruise would take off, and went to Muldoons Pasties and Gifts and each had a pasty. Kathy had a veggie one, Chris had a chicken, and I had a beef pasty. They are evidently a local favorite, and came over from Cornwall with minors, who took them down into the mines for a handy meal. The consensus was that they were overrated. The Bierocks that Chris and I make are way better, and are close to the same kind of thing. We killed as much time there as we dared, charging phones on my laptop.
We went to the docks next and waited for our cruise. Even though we were well over an hour early, there were still probably thirty people ahead of us. We sat at the top of the boat at the middle back, which turned out to be okay seats.
The tour started out a little weak. The noise of the motor nearly drowned out the tour guide. There were so many people trying to take pictures and we weren't supposed to stand on the top deck. But as we got into it, it got so much better. We, along with many others, stood at times to get good shots. When you pay 45 dollars for a boat trip to see the sights and get some photographs, you find a way to do it. Being in the back we weren't blocking too many people when we stood. We evidently blocked Kathy's view some, but she was too nice to mentioned it then.
The first point of interest was a lighthouse, It didn't look like a typical lighthouse, but it was very old. The guide pointed out summer houses on Grand Island. Most didn't have electricity or running water. The houses were small, and many looked like tents.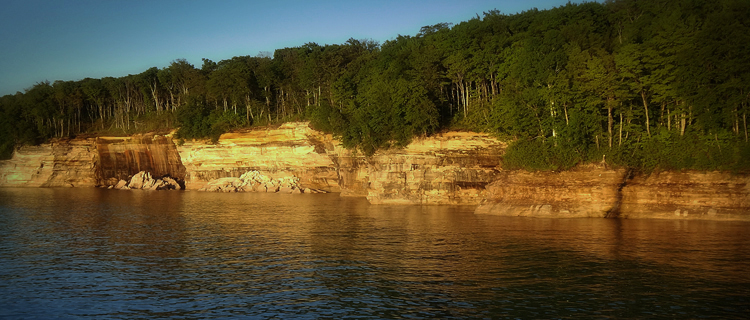 Miners Castle looked quite different from the water, mainly because you got to see the cliff it was on top of and what looked like caves at water level.
Painted Coves was next, then Caves of all Colors, and Lovers' Leap. We saw Rainbow Caves, a formation that was supposed to look like an Indian Head, and a place called Gull Rookery. Grand Portal was next, and then the recognizable, Battle Ship Rock and Flower Vase. I never did quite see the Indian Drum before we got to Chapel Cave and Chapel Rock, where some people get married. The last point of interest was also our last waterfall, Spray Falls.
The trip back was so much more beautiful than going out. The warm light from the setting sun bathed everything in gold. The sunset was lovely too.
The drive back home in the dark took about an hour, and instead of having the big apple dessert we planned to have when we returned, we deferred it until breakfast. We were all dead tired and just wanted to go to bed.
Friday June 15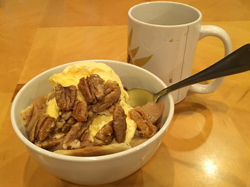 Since we didn't have to check out until eleven, we said we'd all just sleep until we were ready to get up. Kathy was up first, having awakened at 6 and couldn't go back to sleep. I woke after 7 and so did Chris. I rolled out the pie crust and baked it with cinnamon and sugar, heated up the fried apples and toasted pecans. We served it with vanilla ice cream the previous renter left… just the right amount.
We were in no big hurry to get away, so we sat around after our wonderful dessert/breakfast and looked at photos and shared some of them. I had to use my Sony camera a lot because my charge went so fast on the iPhone, and don't have a way to view them until I get home.
We packed up the kitchen and our clothes and just as we started to pack the car it started to rain. We got a little wet, but then who were we going to see but each other and strangers?
It continued raining on an off as we drove to Kathy's house… more on than off, but we weren't pressing it. It's always harder to drive in the rain, however. It stopped raining a few miles north of Sheboygan. We stopped there at a MacDonald's and had a snack. It was so nice to be driving without rain again.
Traffic slowed to a crawl 15 miles north of Milwaukee and for a long way. Bummer!
We missed a toll going through Chicago and will have to send in the toll.
We arrived at Kathy's house around seven and made spaghetti red with our leftover chili soup. It was delicious.
Kathy's daughter, Kelly and her husband George with grandchildren, Ryan and Max came by to say hi and visit for a while. It was an enjoyable visit. It was especially nice to get to know Ryan, who we really hadn't had the opportunity to before.
We went to bed at 9:30 and were up before six, had a light breakfast and left Kathy's about 6:30.
Chicago traffic on Saturday morning was not too bad, but even at that, driving around Chicago is not something we'd want to do all the time. Changing lanes all the time and paying tolls, confusing and frustrating even when traffic is light.
I downloaded an app called Lively that lets you turn "live photos" from my iPhone into animated gifs. Yah.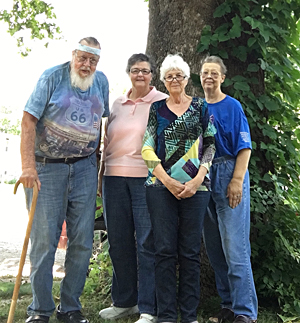 We called our brother, Dave, around 9:00 and asked them if they'd like to go out for coffee or brunch or something since we were driving right through Springfield. Rose just had surgery on her knee, but they thought maybe they could do it. So we told them when we get to Springfield, we'd drop by and then we can go out somewhere for a short visit.
We got there a little before eleven and we all went to a Hawaiian barbecue place and had crispy curry shrimp. We had a nice little visit but didn't linger too long and got back on the road headed for Quincy, our home town.
We drove by our old house, which was disappointing. The last time we were through Quincy, it was in good condition, but this time is was so junky. In fact a lot of Quincy was deteriorating. We drove into South Park and I climbed down to the creek where we played as children. Chris had better sense than I and stayed up on the road. I thought I'd never make it up again. Chris had to help me from the top and I was spread eagle on the ground inching my way up over roots and rocks. I'm getting too old for that kind of nonsense.
We drove down 8th, and 12th, Broadway and Maine Street and took a few pictures. Took a few pictures of the river and thought we had seen enough.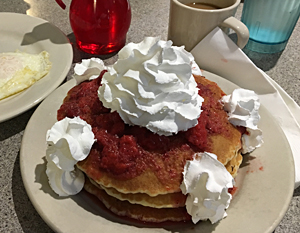 We ate at The Coach House and I had the Fiesta Pancakes for old times sake, and Chris had a BLT. Then we headed across the river and toward home. We had planned on staying the night in Quincy, but we had seen what we wanted to see and thought we might as well go a few more miles and have a shorter drive tomorrow.
We drove on a lot of two lane roads to get to Jefferson City, but it was very picturesque.
On our whole trip we saw 20 dead deer and 3 alive ones.
We arrived in Jefferson City and stayed at the first motel we ran into, the Budget Inn. Not a great place but it was clean.
Chris didn't sleep very well but I slept fine. We got up at six and had breakfast at a MacDonald's and were on the road a little after 7.
The scenery through the Ozarks was nice to drive through—the hills, trees, and stony outcroppings.
We arrived home before 3 in the afternoon, tired but happy to be home.