Home

Pictures

Log

Recipes

Back

Index
Homemade Bread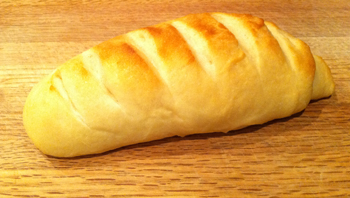 Mix together in bread machine
1 cup warm milk (not hot, not cold)
1 TBSP of vinegar
¼ tsp baking soda
½ cup sugar
1 tsp salt
1/3 cup vegetable oil
2 eggs
approx. 4 ½ cups flour (enough to make dough right consistency)
2 pkgs or 2 TBSP dry yeast

Put all ingredients in bread machine in the order listed. I sort of help it mix in the beginning with a spatula to make sure I have the correct amount of flour. Then set the timer for 1 hour and 30 minutes.

When the time is up, take out, knead a minute by hand on floured surface, then shape into cylinders about 2 inches in diameter and 7 inches long. Place the loaves on a greased cookie sheet and make several diagonal cuts along the top of the loaves with a sharp knife. Spray with Pam or brush with oil and let rise until double in size. Bake at 350° until golden brown. Cool on wire racks before cutting.
This bread is fantastic fresh, toasted, and grilled.