Home

Pictures

Log

Recipes

Back

Index

Next
Recipes from our First Day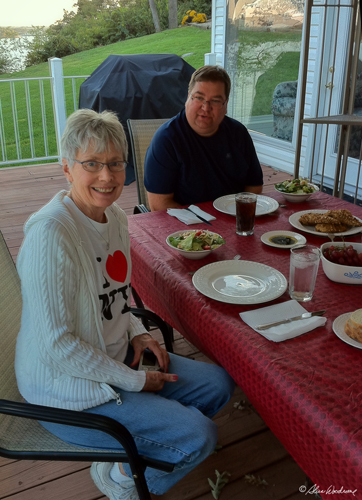 Oven Fried Almond Chicken

1 cup whole wheat bread crumbs
¼ cup Parmesan cheese (we forgot the cheese, but it was great without it)
¼ cup almonds, finely minced
1 garlic clove crushed
1 tsp salt
¼ tsp dried thyme
pinch of black pepper
¼ cup olive oil
4 chicken breast halves

Preheat oven to 370° . Mix bread crumbs, Parmesan cheese, minced almonds, parsley, salt, pepper and thyme. Pour olive oil in pie plate or plastic zip lock bag then the bread crumb mixture in another. Coat the chicken with oil, then crumbs, place in shallow baking pan with plenty of space around them, and bake 30 to 35 minutes... just until done. (Resist the temptation to turn pieces over). Put chicken on a warm platter to serve.
---

Kathy's Dill Bread

(1 ½ pound loaf made in bread machine)
2 Egg and enough plain yogurt
to equal 1 C + 3 TBSP
1 ½ TBSP Oil
1 tsp Vinegar
2 ¼ tsp Salt
2 TBSP Sugar
3 C Bread flour
1 TBSP Dill weed
1 TBSP Dried minced onion
2 ¼ tsp Active dry yeast
---
Carrot Muffin

(an approximation of the way we made them)

1 cup flour (perhaps a bit more)
½ cup sugar
1 tsp baking soda
½ tsp cinnamon
½ tsp nutmeg
1 apple, peeled and grated
1/3 cup raisins
½ cup pecan pieces
4 or so grated carrots
1 banana mashed
¾ cup vegetable oil
1 tsp vanilla
1 egg (optional - improves texture)

Preheat oven to 350° while you combine ingredients and mix just enough with a big spoon to evenly distribute ingredients, then spoon into muffin liners in muffin tins and bake until just done. Over baking will dry them out. Cool. Makes approximately 12 muffins.
---