Home

Pictures

Log

Recipes

Back

Index
Corn Bread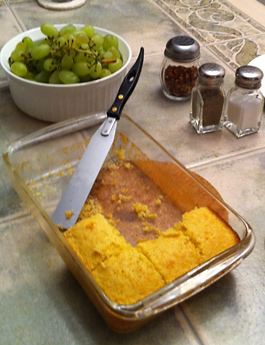 I can't give a precise recipe for the cornbread because I just threw ingredients together without measuring - the way I usually do muffins.

I used almost as much flour as cornmeal. Other ingredients were sugar (about half the amount of flour used), egg, baking powder, and milk. It was a sweet cornbread, made with plenty of oil to make it moist.

Jiffy makes a nice cornbread, though not as healthy. I would add some oil to it, though.