Home

Pictures

Log

Recipes

Back

Index
Quiche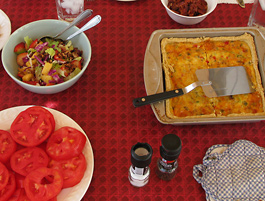 1 small onion diced
½ red bell pepper diced
2 cups grated cheese (we used Provolone and Colby)
a few mushrooms
4 eggs
½ cup half and half
½ cup milk (or more for more custardy)
salt and pepper
8 slices of thick sliced pepper bacon, fried and crumbled

Sautè the onion, red pepper, mushrooms in skillet just until tender. Mix eggs, cream and milk in bowl, add the seasoning and pour into unbaked pie shell (recipe below) Bake at 350° until filling is set (it will swell some when done) crumble bacon on the top. Let set a few minutes before serving.
The Crust
(The recipe makes more than a normal pie crust, because we were using a square deep pan.)
Cut ½ cup Crisco into 1 ½ cups flour and add 3 TBSP cold water. Mix just enough with a spoon to form a ball. Roll out on floured surface, then place in pan. Don't worry if the crust needs to be patched together. Flaky crusts usually require patching. That's better than a tough crust you get when you use enough flour to make it easy to roll. No one will see the patches when it is baked. Flute edges.