Home

Pictures

Log

Recipes

Back

Index
Red Cabbage Slaw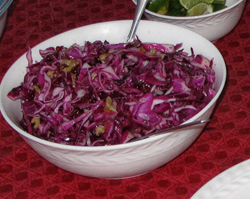 Red Cabbage Slaw
1 cup walnuts, coarsely chopped and toasted
1 cup dried cranberries
4 cups red cabbage, finely sliced
¼ cup thinly sliced red onion

dressing:
1/3 cup white vinegar
1/3 cup oil
1/3 cup sugar
1 tsp celery seed

Mix the dressing ingredients together. Put the coleslaw ingredients into a bowl and toss with the dressing. Cover and let refrigerate about 3 hours before serving. Stir and Drain off all liquid before serving. This slaw keeps for about 5 days, covered and refrigerated.