Lake of the Ozarks Sister Trip - Log
Day One - Wednesday: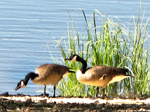 When we got close to Pistol Point Loop we decided to park the car and do a little hiking along the roads since we were about an hour ahead of schedule. We took lots of pictures of houses, marinas, and everything that struck our fancy in the charming lake neighborhood.
As the appointed time approached, we found our car and were on our way again. We stopped by a grocery store to pick up the fresh things we needed to fix supper. We had brought along staples and items that would not need refrigeration. We like to cook and looked forward to eating most of our meals at the cottage, and going out from there for short visits to points of interest.
When it was nearly four and late enough to check in, we drove down Pistol Point Loop in search of our cottage, the Crownview. We were anxious to see if it was as nice as advertised. We were meeting two dear friends there and had promised a wonderful place to stay based on the pictures on their web site.
It was a little hard to believe we were getting such a good deal. They were trading us three nights for the use of photographs that we had posted online of our last trip to the Lake of the Ozarks a few years ago, so we were getting five nights for the price of two. Next