Home

Pictures

Log

Recipes

Back

Index

Next
Lake of the Ozarks Sister Trip - Log
Day One - Wednesday: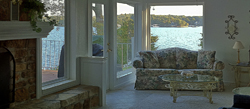 After a little difficulty finding the address, even with the help of The Divine Miss G, we arrived, and were blown away by the cottage. It was beautiful, spacious, and with a view of the water that must have been the best on the lake. A dock extended out from the shoreline at the base of a steep walkway with a gazebo at the end.
Kathy, who lives in the Chicago area, got there about the same time we did, and Erik, who lives in Boonville, MO, arrived shortly thereafter. They had never met before, but were soon friends. Kathy and Erik took the two bedrooms upstairs and Chris and I shared the master suite on the lower level.
After unpacking and checking out the house and grounds, we started supper and talked about the days to come. We fixed oven fried almond encrusted chicken, and a great green salad, along with some homemade dill bread that Kathy had brought along. We had a lovely meal on the back deck, then played games after we cleaned up the kitchen. It was such fun. Watching Chris giggle was the biggest hoot.
We made a batch of carrot muffins that evening, too, for anyone who wanted them for breakfast. We had forgotten to buy eggs, but the muffins were wonderful without it. I ate one every morning of our visit to the lake. It was a lovely first evening. Next