Home

Pictures

Log

Recipes

Back

Index

Next
Lake of the Ozarks Sister Trip - Log
Day Two - Thursday:

Although the little boat seats four, one couldn't say it seats that many comfortably, and we were setting pretty low in the water, too. Erik and Chris, who did the paddling the first spin around the little marina, soon headed back to the dock and got out. Kathy and I got in the paddling seats and took a longer boat ride. We liked it and it was much easier, I'm sure, to paddle with just two in the boat. When we came back, Erik and Chris were quite content to not do it again. It was decided, that one adventure with the paddle boat was enough. We did get some nice pictures there and I'm glad we did it.
I must have taken two dozen shots of a group of Toulouse Geese as we tried to herd them close enough to the dock where Chris and Erik were, so they could get a picture, too.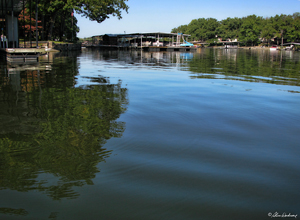 I loved the little private marina. It was peaceful, and there is just something about reflections at a marina that take me back to our childhood vacations at the lake.
We drove back to the cottage when it was time for lunch. Kathy's son-in-law, George, had made some portabella mushroom spaghetti sauce and sent it down with Kathy. We served it over whole wheat spaghetti and made another wonderful green salad. It was a quick meal to fix and delicious! Next