Lake of the Ozarks Sister Trip - Log
Day Three - Friday:
The Ravenswood Mansion was on the way, but we stopped just long enough to get a few shots of the gate and exterior.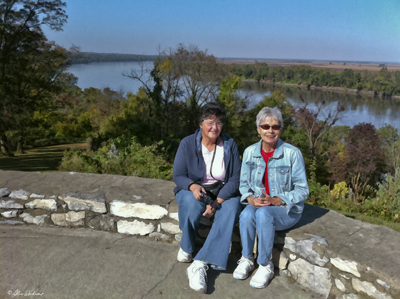 We went to Boonville first and drove through the streets of Erik's little town and saw some great old houses. We drove to a bluff overlooking the Missouri River, to see the Wine Garden at Les Bourgeois, and to their Bistro for a lovely lunch of soup and salad with a view of the Missouri.
We rented "sissy" bikes from a good friend of Erik's and had a grand time riding along the Katy Trial that followed the banks of the river with towering cliffs on the other side of the gravel trail. We had limited time and energy, but we went far enough to go through a really neat tunnel. It was great fun and all of us counted it as a highlight of the trip. I'm glad we didn't miss it.
Afterwards we went to a little shop run by another of his friends. It was named Grace, a Place of Restoration. I had a delicious coffee drink there. Next