Lake of the Ozarks Sister Trip - Log
Day Three - Friday: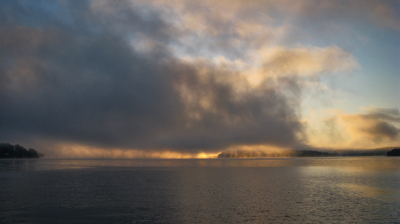 I again went down to the gazebo with my coffee and muffin first thing in the morning. There was a mist on the lake that morning, and it looked quite different than it had previous mornings. It was so beautiful.
The mist was still rising when Kathy again joined me, wearing a jacket over her pajamas. She was carrying coffee and her journal. Then Chris came down soon afterwards with her cereal. The waves created by the wake of passing boats made Kathy a little queasy, so after that morning, she didn't try to journal in the gazebo.
We got around fairly early that morning and drove up to Rocheport to the Katy Trail. It was further away than our other points of interest - about an hour and a half drive - so there would be no time to drive back for lunch. I was ambivalent about being gone from our great cottage most of the day, but the trail sounded beautiful and Erik seemed anxious to show us his own part of the Ozarks, so we all agreed. Next