Lake of the Ozarks Sister Trip - Log
Day Four - Saturday: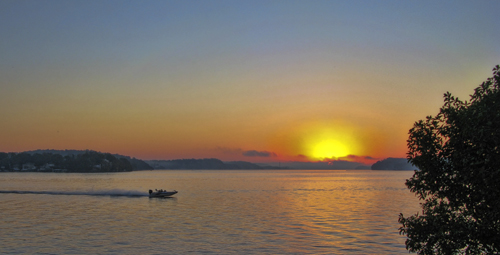 Every morning the sunrise was a little different, but they were all lovely. I watched it Saturday, like I had the other mornings, from the gazebo while I enjoyed my morning coffee and muffin. It was such a luxury.
When the others came down, we moved to the table on shore and chatted until the sun was bright.
Some ducks came by and we fed them some burned croutons I had brought from home. They did eat some of them, but they weren't too excited about our offering.
We weren't in a hurry that morning and planned an easy day. There were few vistas anywhere on the lake better than the view at our wonderful cottage, so we lounged around all morning playing games and generally vegging out. Next