Lake of the Ozarks Sister Trip - Log
Day Six - Monday: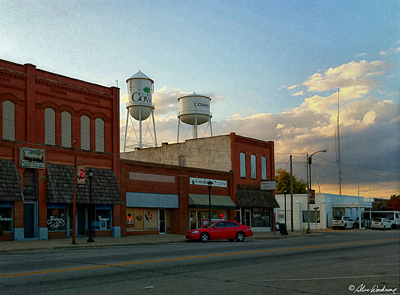 It was late afternoon when we arrived. We found The Josie House where we left it several years before. When I called our host to say we were close, she said she was at the lake and that we'd find the key under the mat. She inquired whether we would be wanting breakfast. We said we would manage on our own.
We took our bags inside and upstairs to the Sister Room, then rested on the front porch for a while.
We were disappointed that the Fish Shack where we had wanted to eat was closed on Mondays. We settled for a meal at a place called Grandma's Kitchen across the street from the Josie House.
We took an enjoyable walk up and down Broadway by the light of the setting sun. Coweta was oddly attractive. I'm sure it was largely due to the lighting.
We played a couple rounds of Farkel at the Josie House before turning in early. Next