Lake of the Ozarks Sister Trip - Log
Day Seven - Tuesday:
I was up at dawn and had my coffee on the front porch of the Josie House as the traffic went up and down Broadway. Since our B&B was evidently only a B, we crossed the street to Grandma's Kitchen again where we ate a few bites of cold oatmeal. Grandma was not a great cook.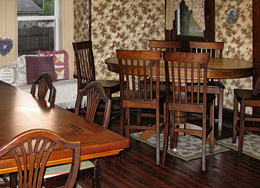 Our host came by while we were there and collected her money for the night's lodging and we were on way up the road to Jenks, where we planned to spend an hour or so.
There is an antique mall there named River City Trading Post that we had been to before, and that is where we headed. I didn't find anything I wanted, but Chris bought a gift. It was a nice place to kill some time before lunch.
Our cousin's wife, Cheryl, organized a little cousin get together when she learned we would be coming back through Tulsa. We met at a Jason's Deli, had a great salad, and visited for an hour or so. It was good to see them.
We were on the road again by two or so in the afternoon and on the last leg of our 2010 sister trip. It had been wonderful. I will always remember those terrific sunrises I witnessed every morning from the gazebo out on the dock. End of Log Back to First Day's Log