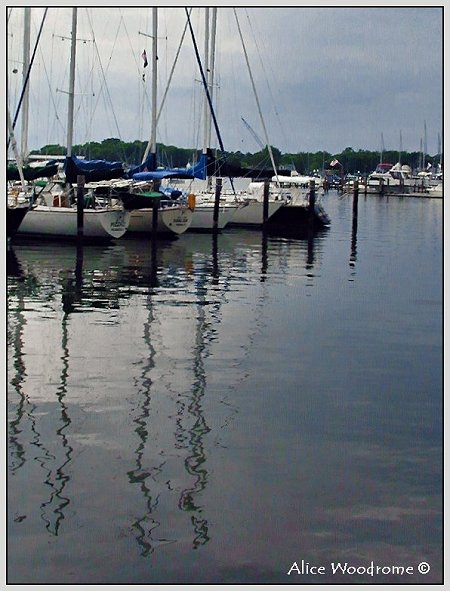 "Because we've never been here."
That's what we told several people who asked why we had chosen the Chesapeake Bay area for our vacation. My sister and I have occasionally taken trips together because our husbands do not share our enthusiasm for serendipity. We like to leave room for going with the moment -- for wandering, taking pictures, and waiting to see what is around the next corner before firming up our plans.

We started with plane reservations to Baltimore, some maps and brochures, a loose itinerary, and a whole week to fill. Chris and I began at Baltimore, walking around the inner harbor and Little Italy before heading up into Pennsylvania to visit Amish country. We discovered the charming little town of Port Deposit the first evening. The next day we took in the stunning Longwood Gardens and the Arts Festival. in State College, where my friend, Jill, had a booth. It was fun to be a customer at one of my favorite art shows after so many years as an exhibitor. And fun, as well, to once again eat grilled stickies at Ye Olde College Diner That alone was worth the side trip into Pennsylvania.

We had a grand time taking pictures in the Allegheny mountains and back through Lancaster County the next day before going back down to Maryland. The next two days we strolled around the marinas along the eastern shore of Chesapeake Bay and had a ball. Our favorite towns along the shore were St. Michaels, Chesapeake City, Easton, and Rock Hall. We walked around their neighborhoods and took hundreds of pictures. The last day we drove south along the Delaware River and Delaware Bay shoreline through wildlife refuges, and even went to the ocean to Rehoboth and Bethany Beaches and walked along the surf barefooted, ending up at a beautiful Victorian Bed and Breakfast called the Chaffinch House that we found the day before. That night my friend, Erik, drove over from Baltimore to help us celebrate my sister, Chris's birthday. All in all it was a wonderful vacation.

I hope you'll enjoy seeing some of the sights we found along the way. The links at the top and bottom of each page will take you to the pictures, grouped together by subject. I took the photographs with an Olympus C-2000 Z digital camera and enhanced many of them with PaintnShop Pro. They are copyrighted, and should not be used for any commercial purpose. You are welcome, however, to download them to enjoy on your own computer. ~ Alice Woodrome ~

Click on the links of interest below or begin here.