RAINIER NATIONAL PARK
Day Two of our Pacific Northwest Vacation
After the civilization of the previous day in Victoria, we were ready to see the wildness of nature. It was a chilly morning so the three of us dressed warmly and headed for Rainier National Park. It is a good thing Erik and Jill did the driving, because I was lost most of the time.

We were not disappointed in Rainier: the scenery was spectacular, but there was something more -- the experience of being there, surrounded by all that untouched natural splendor. It did my soul good.
Jill is pictured here.
We strayed off the beaten track at times to places with no guardrails. My intrepid companions stood on the brink of eternity to peer down into this gorge that water and time cut deep into the mountain.

I usually stayed well back from the edge to take in the wonder of it all, though I did crawl over the rocks on my belly to take one shot of the gorge. This photograph, however, was taken from the safety of the bridge pictured below. Over and over at Rainier I was impressed by the sheer power of nature.
Click on any image to see a larger version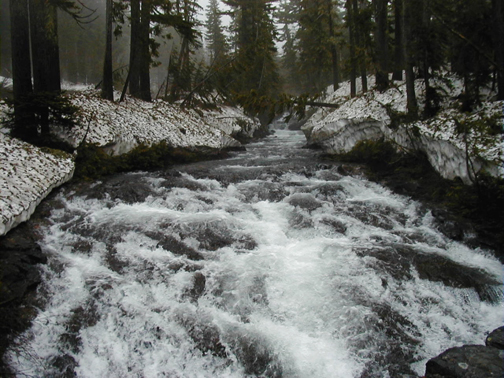 We heard reports of snow on the roads up in the high elevations, but we forged on. How much snow can there be in June, after all? The answer is PLENTY! But it was grand. I would not want to have missed this sight.
The Images and writings contained in this web site are copyrighted and may not be used for any commercial purpose without the written consent of Alice Woodrome.