What would a Pacific Northwest vacation be without trees? I'm glad we took time to see the forest at Ohanapecosh. The cycle of life is demonstrated so eloquently there. It was humbling to be surrounded by the quiet grace of a forest slowly yielding to inevitable change.
---
Click on any image to see a larger version
I think that Jill enjoyed the woods more than any of us. She often lagged behind to listen to a bird's song or fill her pockets with little pinecones from the hemlock trees. She had filled all of our pockets by the time we got back to the visitors center.
---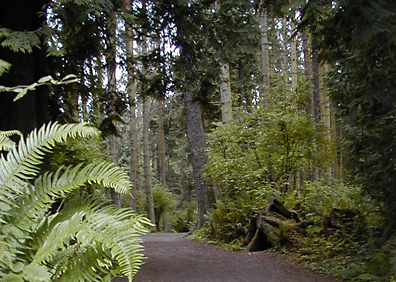 Fifty-six seems young when you are walking among the thousand-year-old trees in the Grove of the Patriarchs. Some of them stretch more than three hundred feet toward the heavens. We counted the rings of one of the trees that had fallen in its prime across the path. It was cut in two sections to allow passage. I stopped counting at a hundred. That's me in the next photo below sitting on the knee of one of the grandfathers.
---
The Images and writings contained in this web site are copyrighted and may not be used for any commercial purpose without the written consent of Alice Woodrome.